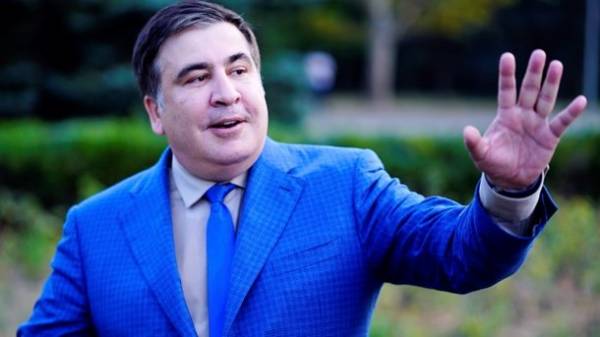 The Ministry of internal Affairs of Ukraine believe that the leader of the party "movement new forces", the former head of the Odessa regional state administration, Mikheil Saakashvili, who on 10 September crossed the border of Ukraine, currently located on the territory of Ukraine illegally, but his arrest is not sufficient reason.
The Director of the Department of communications of the Ministry of internal Affairs of Ukraine Artem Shevchenko at a briefing on Tuesday in Kyiv, answering the question of whether Saakashvili is located on the territory of Ukraine illegally, said, "our opinion is Yes."
SEE ALSO
SBU will take on breakthrough Saakashvili on the border
He also said that at the moment of the State border guard service presented the administrative report about Commission of an administrative offense, however, for the detention of Saakashvili, they did not have sufficient grounds.
As you know, September 10, at about 20:00 Saakashvili still managed to break into the territory of Ukraine, using the help of several hundred activists. The crowd, whose ranks were including people's deputies of Ukraine, broke through the ranks of guards at the checkpoint "shehyni" and had a policy in Ukraine.
In the course of events at "shehyni" injured 16 security officials. The police have already made information on the fact of breaking the boundaries of Saakashvili in the Unified register of pre-judicial investigations under article 332 "Illegal transportation of persons through the state border of Ukraine". Article provides imprisonment for the term from three to seven years, if these actions committed on preliminary arrangement by group of persons.
Comments
comments