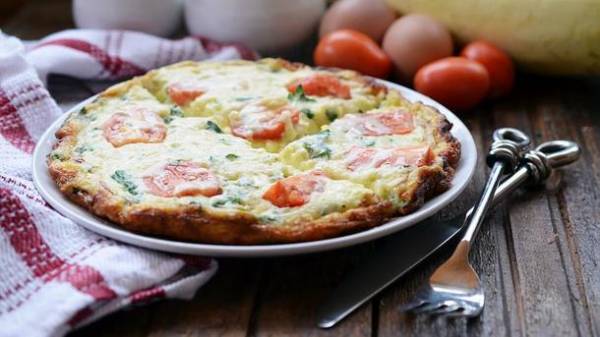 A great Breakfast will serve as a bright, delicious and hearty omelette with tomatoes. Nothing new and special about this recipe is that everything is very quickly, simple and delicious, says fakty.ictv.ua.
SEE ALSO
What products are most useful for women's health: expert advice
So, you need the following ingredients:
olive oil;
onions medium size;
freshly ground black pepper to taste;
fresh Basil chopped, four to five leaves;
salt to taste;
one tablespoon of butter;
12 eggs;
one tablespoon creme fraiche;
three large ripe tomatoes.
Cooking
Douse the tomatoes in boiling water, then cold. Remove the skin, halve and core. Slice the flesh too finely, onion and Basil very finely.
Preheat a frying pan with a thick bottom two tablespoons of olive oil. Put the onion and fry on medium heat five to seven minutes.
Add the tomatoes, salt, pepper and Basil. When excess fluid evaporates, remove the pan from the fire, cool a little.
Whisk the eggs, add the contents of the pan and the creme fraiche and stir. Wipe the pan with paper towels and return it to the fire. Preheat on high heat a mixture of one tablespoon olive oil with butter. If the butter begins to foam, remove the foam, that it does not burn.
Gently pour into the pan the egg-tomato mixture. On high heat cook for four to five minutes, constantly shifting his pieces to the center. Scrambled eggs should not be overcooked, remaining slightly moist on top.
Comments
comments