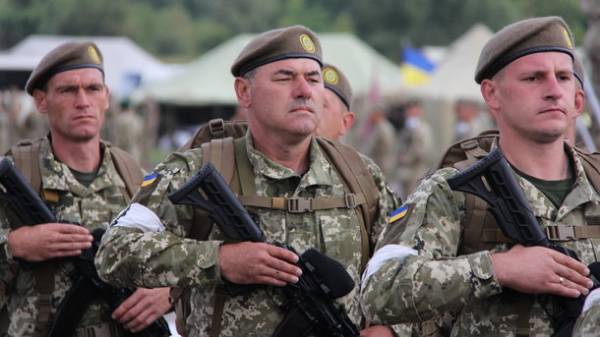 Wages of an ordinary soldier with the rank of "soldiers" that perform tasks in the ATO area is 17 thousand UAH. This was stated by the Ministry of defence of Ukraine.
"7 thousand UAH – is the main cash security, 10 thousand UAH – a Supplement; it starts when soldiers held in ATO full month. In addition, if soldiers are directly involved in the fighting or shot down enemy vehicles, receive additional bonus", – said the Deputy head of the Department of Finance, the Ministry of defense Sergey Galinsky.
According to him, such salary they receive from 1 September 2017. Galinsky noted that salaries of the military personnel airborne forces and the marine corps are higher than among soldiers of other units of the APU.
SEE ALSO
UN peacekeepers: how it works and three options for Ukraine
"The volume of spending in 2017 allows us to fully provide for the payment of cash collateral at no less than 2016, and wages with the increase in the minimum wage in the state," said Galinsky.
According to the representative of the defense Ministry, the defense Ministry has sufficient funds for the reconstruction of weapons and military equipment, the training of troops, the maintenance and improvement of communication systems.
"At the moment of debts on payment of remuneration not… In 2016 we spent on the remuneration of members of ATU only UAH 1.9 billion, and for 8 months of the current year we have already spent 2,2 billion UAH", – said Galinski.
Recall, extra staff APU that performs tasks on the second line of defense, also increased from 1 September 2017 – up to 4.5 thousand UAH.
Comments
comments