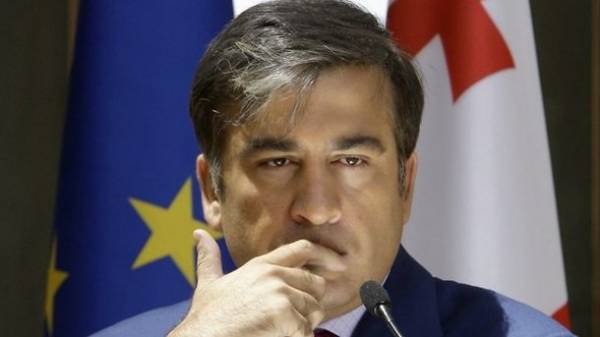 The lawyer of ex-head of the Odessa regional state administration Mikhail Saakashvili Markiyan Halabala Monday, September 11, came to the State migration service of Ukraine with the statement for recognition of the defendant by a person who needs extra protection.
"The filing of such statements provided for by the law on the status of refugees and persons which need additional protection," said Halabala.
The lawyer explained that for filing such statements of Saakashvili's protection, there were several factors that played an important role.
SEE ALSO
Gerashchenko said one of the deputies helped Saakashvili to break into Ukraine
"Mikheil Saakashvili may be subject to prosecution by the Georgian authorities. Accordingly, the information distributed by the Deputy Minister of justice Sergey Petukhov, Georgia filed a request for extradition Mikheil Saakashvili. We are afraid that as a result of satisfaction of this request for Saakashvili would face torture in Georgia, or he will not have the right to a fair trial. To prevent the transmission of Saakashvili in Georgia and the state of Ukraine took on additional responsibilities for the protection of Saakashvili, we have filed this statement," – said Halabala.
The lawyer pointed out that as of today, Saakashvili has extra protection from the country of the state of Ukraine as a stateless person but with permanent residence in the country.
SEE ALSO
Breakthrough Saakashvili in Ukraine: supporters of the policy wanted bloodshed – Gerashchenko
While Halabala, referring to part 9 article 9 of the law of Ukraine on the state border of Ukraine, said that "it is not a violation of the rules of crossing the state border of the forced crossing of the state border by persons committed in a state of emergency, as well as other forced circumstances".
As you know, September 10, at about 20:00 Saakashvili still managed to break into the territory of Ukraine, using the help of several hundred activists. The crowd, whose ranks were including people's deputies of Ukraine, broke through the ranks of guards at the checkpoint "shehyni" and had a policy in Ukraine.
In the course of events at "shehyni" injured 16 security officials. The police have already made information on the fact of breaking the boundaries of Saakashvili in the Unified register of pre-judicial investigations under article 332 "Illegal transportation of persons through the state border of Ukraine". Article provides imprisonment for the term from three to seven years, if these actions committed on preliminary arrangement by group of persons.
SEE ALSO
Against Saakashvili in Georgia can put forward new charges
Recall. at the beginning of September , Ukraine received a request from Georgia for the arrest and extradition of Saakashvili. The Prosecutor's office of Ukraine said: given the fact that criminal cases, in respect of which extradition is requested Saakashvili, pending before the Tbilisi city court, according to article 574 of the criminal procedure code of Ukraine "the request of the competent authorities of Georgia will be considered by the Ministry of justice of Ukraine".
Comments
comments