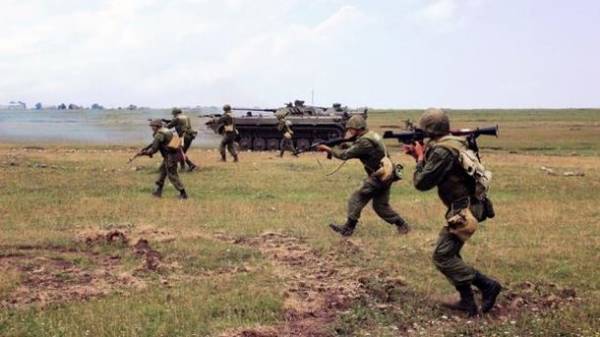 Russia will not go to a large-scale offensive in the Ukraine – either from the Donbass or from Belarus for the exercise "Zapad-2017". This view of "observer" stated Russian economist, former employee of the presidential Administration and opposition politician Dmitry Nekrasov.
"Russia's policy towards Ukraine will not change. That is, it will be aimed at its destabilization, the maximum undermining any foundations of state power, economic destabilization. The only thing I would not expect any, relatively speaking, a direct military confrontation. I mean – with the official Russian units", – said the Russian opposition.
He also reassured regarding the Russian-Belarusian exercises "West-2017".
"Roughly speaking, expect that from Russia, Russian troops invaded the territory of Ukraine, I would not in any case. At least in the current situation it portends nothing," – said Nekrasov.
SEE ALSO
In Russia estimated the likelihood of the withdrawal of occupation troops from the Donbass
At the same time, he explained that the greatest threat to Ukraine should be expected in the Donbass.
"Some actions can occur from the "L/DNR" with the participation of various degrees of secrecy of Russian support. This could be. It is clear that now the elections, and the elections need is some kind of agenda, which once again must demonstrate that Putin once again has shown everyone. It doesn't have to be Ukraine, but, overall, it is likely to be Ukraine", – said the Russian opposition.
Nekrasov said, despite the fact that Putin needs to give before the election to the Russian people "bread and circuses", it is unlikely to make a full-scale attack on Ukraine.
As told Deputy Minister on the issues of the temporarily occupied territories and internally displaced persons of Ukraine Yury Grymchak, international pressure will force Russia to withdraw from the Donbas and there are real reasons, which he voiced.
Comments
comments