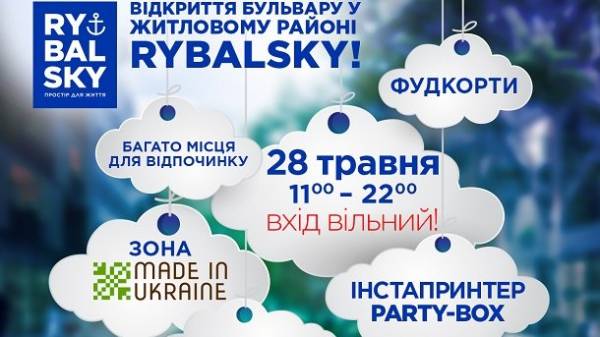 May 28, on the territory of the residential complex Rybalsky on the occasion of the opening of the pedestrian Boulevard will host a festival "finding Made In Ukraine".
At the festival visitors will be able to feast on the food court, as well as to purchase products of Ukrainian manufacturers for every taste. They were selected team of the project "In search of Made In Ukraine", which for the past five years acquaints consumers with quality products of Ukrainian companies.
On site there will be photobooths and interesting photo zone, as well as a comfortable place for guests to relax. For children will equip places for painting, trampolines and other interactive areas. On the music scene for visitors to play DJ Artem Gafarov & DJ Kirill Doomski.
The festival "finding Made In Ukraine" will be held on Sunday, may 28, from 11:00 to 22:00. You can get there on foot from the metro station Pochtovaya square or Taras Shevchenko and Kontraktova square visitors will take your free corporate transport. Will work free Parking (check with the Electricians streets) and Bicycle.
Entrance to the festival is free! Come and see for yourself how Rybalsky creates space for your comfortable life!
Comments
comments