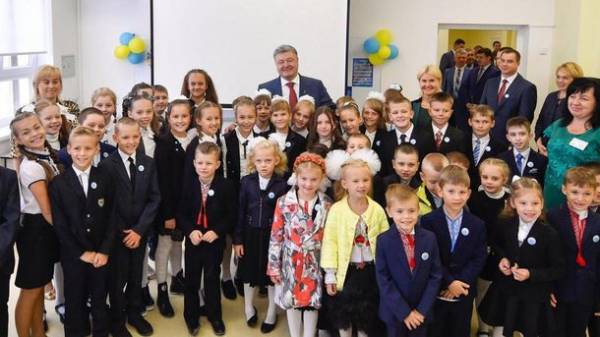 The Ministry of foreign Affairs of Romania after Hungary joined with criticism of the language of the provisions adopted by the Verkhovna Rada of Ukraine on 5 September, the law "On education".
In the Romanian foreign Ministry noted that "with concern" greeted the news about the Ukrainian education reform and believe that this law violates the rights of the Romanian minority.
"In this regard, the theme of education in Romanian language in Ukraine will be included in the agenda of the Secretary of state Victor Mikula, who next week will travel to Kiev", – quotes "Interfax" the representatives of the Romanian Ministry of foreign Affairs.
In addition, the Agency Agerpres also said that the Prime Minister of Romania Mihai Tudose offered the foreign Ministry to intervene in "special situation" in Ukraine. "I ask you to intervene in a particular situation in Ukraine, he said. – It's a really special situation. We have a national problem with only one school, and there we have closed all the schools."
SEE ALSO
Education reform: the Parliament explained the important nuances of the law
The law also has caused negative reaction in Hungary.
"Ukraine plunged Hungary stabbed in the back by amending the law on education, which strongly violates the rights of the Hungarian minority… it is Shameful that a country that seeks to develop an increasingly close relationship with the European Union took a decision, which is in total opposition to European values. It is unacceptable that Ukraine has deprived the Hungarians of their right to learn in their native language in schools and universities, and left them such an opportunity only in kindergartens and primary schools," – said in a statement the foreign Ministry of Hungary.
"This is an unprecedented restriction of the rights of 150 thousand ethnic Hungarians, it is completely contrary to the Constitution," – commented on the situation TASS the state Secretary of the Hungarian government on issues of national policy, Janos Arpad Patapi.
As stated in Parliament, this provision is necessary to protect against total Russification of the population. According to deputies, the Russian education has become one of the causes of the occupation of Donbas and Crimea.
As reported, on September 5 the Verkhovna Rada adopted the law "On education". In particular, the law specifies that the language of the educational process in educational institutions is the state language. Persons belonging to national minorities guaranteed the right of education in native language along with the Ukrainian language in separate classes (groups) of public institutions of preschool and primary education.
Comments
comments