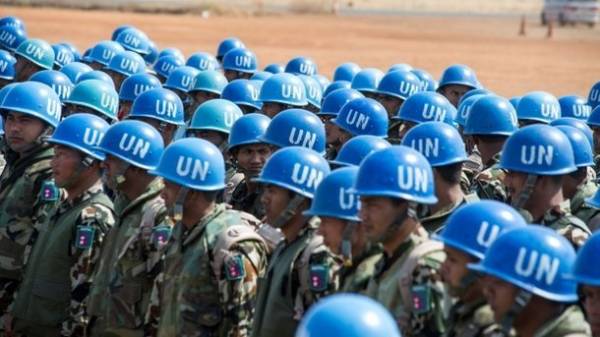 The placement of the UN peacekeeping mission in the Donbas want to fix the law in the new bill on the reintegration of the occupied territories. This was stated in comments to the TV channel "112 Ukraine" Deputy Minister of the temporarily occupied territories and internally displaced persons of Ukraine Yury Grymchak
According to him, this will happen after the speech of the President of Ukraine Petro Poroshenko at the meeting of the UN security Council.
SEE ALSO
Poroshenko will speak at a meeting of the UN security Council
"There are two things that we have in September will be the President to address the UN General Assembly with a proposal for the involvement of peacekeepers, which could be on the border line. After the decision of the General Assembly, as we understand, than it can end, there will be made certain provisions about the presence of peacekeepers in the zone, I guess until about the end of September, the bill will go to Parliament. While I hope that we will vote for him," said Grymchak.
We will remind, yesterday the President of Russia Vladimir Putin said that he supports the presence of UN peacekeepers in the Donbass, and called a number of conditions which have already sharply criticized in Ukraine.
As was stated by the permanent representative of Ukraine to the United Nations Volodymyr Yelchenko, the UN peacekeeping mission in the case of the introduction in the Donbass should be located on the Russian-Ukrainian border and the participation of representatives of Russia excluded.
Comments
comments