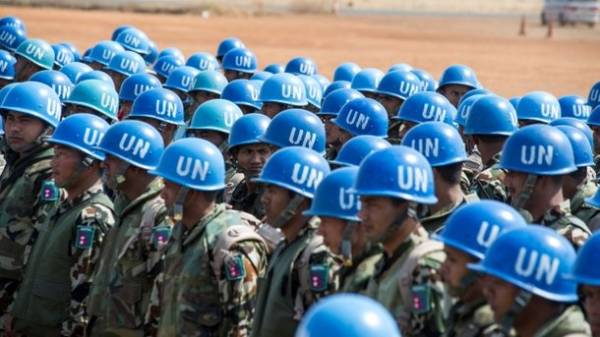 In the case of the introduction of peacekeepers in Donbass is to radically change the situation in the East of Ukraine. This was stated by the head of the BPP Arthur Gerasimov, the press service of his political power.
According to him, Ukraine is now considering several options for the introduction of the peacekeeping mission in the Donbass.
"The first is, for example, the format proposed by the President of Ukraine, announced during a session of the General Assembly. Also in the discussion is indeed the format of the entry of peacekeepers under the OSCE format. And also in the discussion is the introduction of peacekeepers under the format of the police mission from Europe. That will likely be more effective, will show time" – the politician said.
SEE ALSO
Poroshenko enacted NSDC decision on the appeal to the UN and EU to send peacekeepers to Ukraine
He noted that once the peacekeepers appear in the Donbas, the situation there has changed dramatically.
"Once this is done, the situation will immediately change for the better. Because today, as soon as the mission of the OSCE special monitoring mission, which is now in the Donbas arrives at a place – from attacks, immediately the violation of the armistice, instantly hostile action from terrorists. That is why the President of Ukraine insists that the mission has not worked, for example, from 9 to 18 hours, and was constantly present on the line (of demarcation – ed.)", – said Gerasimov.
SEE ALSO
Poroshenko has criticized the actions of the OSCE observers in the Donbass
At the same time he stressed that representatives of Russia can not be members of the peacekeeping mission, if any will be introduced to the Donbass.
"When we talk about peacekeepers, there really is a problem associated with the fact that Russia is a member of the UN Security Council. But this does not apply to the situation in Ukraine. Now, regarding the fact that Russia is the aggressor at the same time can be the aggressor and peacemaker. This will not happen. Despite the efforts of Russia, the sanctions remain and even intensify. That is correct. Because the only source for the aggressor to get rid of sanctions – to withdraw its troops from the occupied territories and the release of Ukrainian territory", – he added.
We will remind as reported the people's Deputy Irina Lutsenko, Ukraine is ready to recognize Russia as the aggressor, taking the bill for the reintegration of Donbass.
Comments
comments