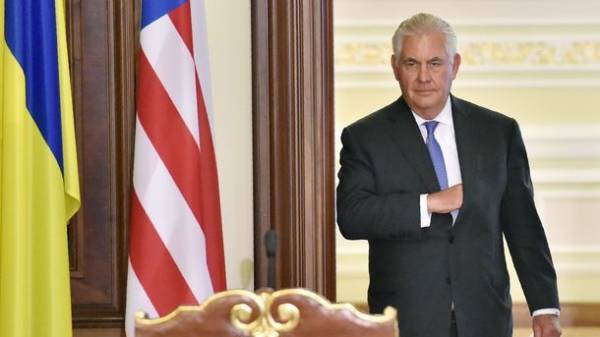 United States appreciate the durability of the Ukraine facing Russia unleashed the military conflict in Donbas and the occupation of the Crimea. This is stated in the appeal of the Secretary of state Rex Tillerson to the independence Day of Ukraine, published on the website of the state Department, TV channel "112 Ukraine".
"We deeply value the friendship that we developed over 25 years of diplomatic relations. We appreciate your perseverance in the face of serious challenges, including in conflict under the leadership of Russia in the Donbass, and the Russian occupation and attempted annexation of Crimea. Despite the difficulties that you have experienced, the people of Ukraine showed a fierce resolve to create economic opportunities, combat corruption and strengthen its democratic institutions," said Tillerson.
SEE ALSO
Will the United States Ukraine: the results of the talks Poroshenko and Mattis
The Secretary of state assured that the US is proud of the partnership with Ukraine, and strongly supports the sovereignty and territorial integrity.
"The United States is proud to have been a partner on the way of Ukraine, and we remain steadfast in our support for the sovereignty, territorial integrity and democracy. Let the next year bring peace, prosperity and progress for the people of Ukraine," – said Tillerson.
Earlier, the Minister of defence of the USA James Mattis and his Ukrainian counterpart Stepan Poltorak discussed the reform of the Ukrainian army in the conditions of Russian aggression.
Comments
comments