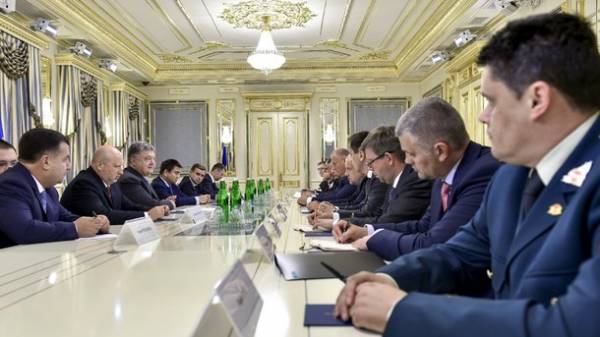 President Petro Poroshenko has held a meeting with the Minister of defense of Lithuania Raimundas Karoblis, Minister of defence of Latvia Raimonds Bergmanis the defence Minister of Estonia jüri Luik Minister of defence of Montenegro Predrag Bošković.
As reported in the press service of the head of state, Poroshenko expressed gratitude to the leaders of the defense departments for the strong support for the sovereignty and territorial integrity of Ukraine.
SEE ALSO
Poroshenko: Russia helped to destroy the Ukrainian army
"Part of the main calculations and colour groups of your countries shoulder to shoulder with the Ukrainian units in the military parade on the occasion of Independence Day is an important demonstration of our unity and solidarity in the face of common challenges," – said the President of Ukraine.
He discussed with the heads of defense agencies the situation in the Donbas and the implementation of the security unit of the Minsk agreements.
The President also thanked for the strong position of Lithuania, Latvia, Estonia and Montenegro in the non-recognition of Russia's annexation of the Autonomous Republic of Crimea and Sevastopol city.
In addition, Poroshenko noted the financial, technical and humanitarian assistance provided by the governments of these countries on a bilateral basis and within the framework of relevant NATO trust funds.
SEE ALSO
Poroshenko: We will refund the Crimea and Donbass
Separately were noted the program of treatment and rehabilitation of the wounded in ATO Ukrainian soldiers.
The President also congratulated Montenegro on its recent receipt of a full membership in NATO. "We believe the Ukrainians are heroes who are defending European values. Therefore, will continue to help and support Ukraine in this fight," – said during the meeting, the Minister of defence of Estonia.
The two sides also discussed a wide range of issues of development of relations in military-technical sphere and the strengthening of the defense potential of Ukraine in the conditions of counteraction of the Russian aggression.
As told Kravchuk, the invasion of Russian troops on the territory of Ukraine in 2014 is officially documented by the state Duma, when it had allowed President Vladimir Putin to send troops into the neighboring country.
Comments
comments