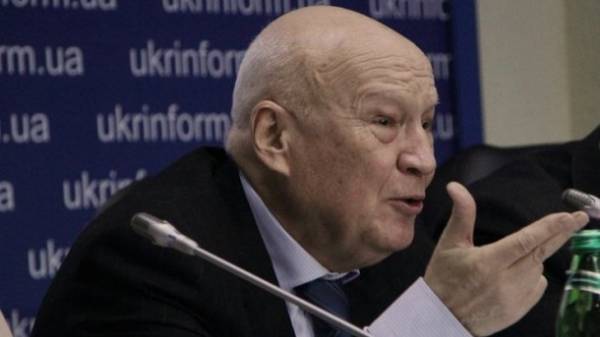 The Director of the National Institute for strategic studies, Advisor to the President of Ukraine Vladimir Gorbulin believes that the imposed sanctions by Ukraine against Russia on the part of termination of cooperation in the sphere of military-industrial complex is very difficult given Russia and amplify its rapid collapse.
About it he writes in article for "a mirror of week".
So, he suggests the data SIPRI (international Institute of peace studies and conflicts, especially the issues of arms control and disarmament. – Ed.) according to which Russia still has not managed to establish the production of at least 185 unique parts and components produced by Ukrainian enterprises.
"As the expert says Swedish defense research Agency (FOI) Thomas Malmlof, "according to the most conservative estimates, almost 30% of components supplied Ukrainian military-industrial complex, are unique, and while Russia were unable to find a replacement. Abstract 30% are actually quite specific 51 percent of all Russian Intercontinental ballistic missiles, carrying 82 percent of all nuclear warheads which are on arms of VS of the Russian Federation", – stressed Horbulin.
SEE ALSO
Advisor to Poroshenko called the main mistakes Putin made in the USA and Europe
As experts say, the Russian search system and guided missiles "air—air" complexes targeting for bombing the MiG and su, almost all of the Russian air force, hydraulics, engines for all Russian helicopters and many more were created on Ukrainian enterprises "Pivdenmash", "Hartron", "Kosmotrans", "Arsenal", "Artem", "Motor Sich".
"However, these restrictions affected not only the military sphere — the scandal turbines"Siemens" showed that the real level of technological development is such that even turbines, which produce and some plants on the territory of Russia, have imported from abroad the gray schemes", – added said.
Comments
comments