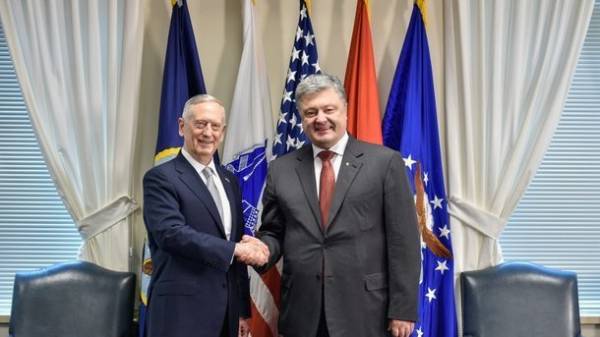 The Minister of defence of the USA James Mattis on Thursday, August 24, will visit Kiev, where he will meet with President of Ukraine Petro Poroshenko and Minister of defence of Ukraine Stepan Poltorak, reported on the official website of the U.S. defense Department on Friday.
"During these meetings, the Minister will once again want to assure our Ukrainian partners that the U.S. remains firmly committed to the goal of restoring sovereignty and territorial integrity of Ukraine, as well as strengthening strategic defense partnership between our two countries", – stated in the message.
Ambassador of Ukraine to the United States Valeriy Chaly noted that the upcoming visit of Mattis is a result of the agreements of the President of Ukraine Petro Poroshenko during his visit to the US in June. "Only Washington has officially confirmed a visit of U.S. Secretary of defense James Mattis in Kiev on August 24. This is the result of agreements reached by President of Ukraine Petro Poroshenko during a visit to Washington in June," he wrote on the Facebook page.
He described the visit as "a real friendly gesture" from a strategic partner of Ukraine Independence Day. "A serious commitment to the further development of bilateral military cooperation, a demonstration of solidarity with the people of Ukraine in their struggle against external aggression", – said V. Chaly.
According to the U.S. defense Department, James Mattis Saturday, August 19, will begin their visits to confirm the United States ' commitment to the strategic partnership in the middle East and in Europe.
Monday, August 21, in Jordan, he will meet with king Abdullah II and Chairman of the joint chiefs of staff of Jordan Mahmoud Fragata.
Wednesday, August 23, Mattis will visit Turkey, where he is scheduled to meet with President Recep Tayyip Erdogan and the Ministers of national defence and foreign Affairs.
Previously , the Pentagon took Poroshenko in Washington.
Comments
comments