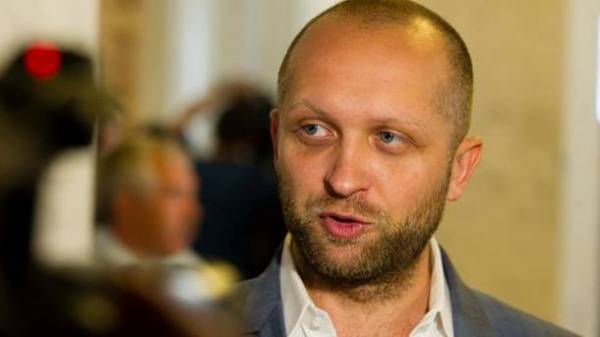 People's Deputy of Ukraine Maksym Polyakov, who is suspected of bribery, is not passed neither diplomatic nor a passport. This was during a meeting of the Solomensky district court of Kiev was declared by the Prosecutor of the Specialized anti-corruption Prosecutor's office Maxim Kravchenko.
He said that the Prosecutor's office received a response from the State migration service and foreign Ministry, that the Deputy Poles are not passed neither diplomatic nor a passport.
In addition, according to Kravchenko, the withdrawal of registration in Uman, it is a deliberate action Polyakova to create the conditions for alleged legal breach of the preventive measure.
SEE ALSO
The people's Deputy of the Poles for the third time, refused an electronic bracelet
As reported, on June 19, detectives of the National anti-corruption Bureau of Ukraine under the procedural management of SAP prosecutors have detained 7 people, involved in extortion and obtaining illegal benefit for the promotion of foreign companies in the implementation of extraction of amber in Ukraine.
According to investigators, the crime was committed with the participation of people's deputies of Ukraine. Now established the probable involvement of two deputies – Maksym Polyakov (people's front) and Borislav Rosenblatt (expelled from the BPP).
11 July, the Verkhovna Rada gave its consent to bringing these MPs to criminal liability, however, refused to give consent for detention and arrest.
21 Jul Solomensky district court of Kiev chose to the Polyakov measure in the form of a Deposit in the amount of 304 thousand UAH. The court also ordered him to wear an electronic monitoring tool, the AI not to leave Kiev and Uman without the investigator's permission, to refrain from communicating with witnesses in criminal proceedings and to surrender all passports to travel abroad.
August 4, Poles are not allowed to wear an electronic bracelet, so the prosecutors of the Specialized Prosecutor's office of Ukraine filed a petition to appeal proposed Deposit of state income.
August 17, the court extended the measure Polyakov until 17 October.
Comments
comments