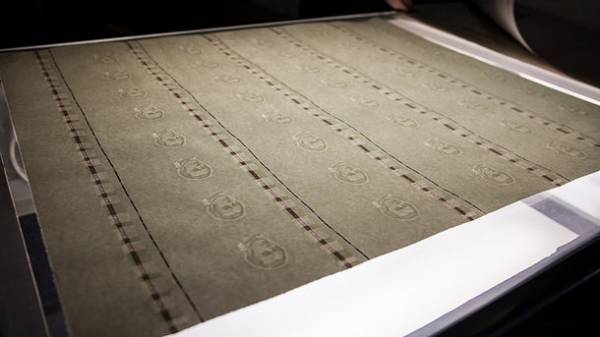 The national Bank of Ukraine (NBU) in the past year spent on the printing of money 1.3 billion. This was announced by Deputy Director of Department of strategy and reforming of the NBU Ruslan Kravets.
According to him, the NBU plans to develop all possible elements of a cashless economy.
"The regulator wants to reduce the cost of using cash. Only last year the regulator has spent 1.3 billion UAH to print money. This is simply an astronomical sum. If we assume that we can reduce this amount, for example, two times, then this sum will be enough to build some very modern hospitals," said Krawiec in the First national.
The representative of the NBU said that the development of a cashless economy are not only interested regulator, but also physical persons, banks and state as a whole.
SEE ALSO
Ukrainians do not trust banks and keep billions of hryvnia, "under the mattress"
Recall that the amount of cash in circulation in Ukraine since the beginning of the year decreased by 10 billion hryvnia as at 1 July 2017 is 331 billion UAH. According to the NBU, 328,9 billion hryvnia banknotes of the amount (2.8 billion) and coins of 2.04 billion UAH (12.9 billion pieces).
The national Bank of Ukraine last year was spent on the printing of money-1.3 billion UAH. This broadcast UATV said the Deputy Director of Department of strategy and reforming of the NBU Ruslan Kravets. See also the national Bank issued banknotes souvenir silver (photo) According to him, the NBU plans to develop all possible elements of a cashless economy. "The regulator wants to reduce the cost of using cash. Only last year the regulator has spent 1.3 billion UAH to print money. This is simply an astronomical sum. If we assume that we can reduce this amount, for example, two times, then this sum will be enough to build some very modern hospitals," said Kravets. The representative of the NBU, said that the development of a cashless economy are not only interested regulator, but also physical persons, banks and state as a whole. As UNIAN reported earlier, the amount of cash in circulation in Ukraine, since the beginning of the year decreased by 10 billion UAH as at 1 July 2017 is 331 billion UAH. According to the NBU, 328,9 billion hryvnia banknotes of the amount (2.8 billion) and coins of 2.04 billion UAH (12.9 billion pieces).

Read more on UNIAN: https://economics.unian.net/finance/2088249-nbu-v-proshlom-godu-na-pechat-deneg-potratil-13-milliarda.html
Comments
comments