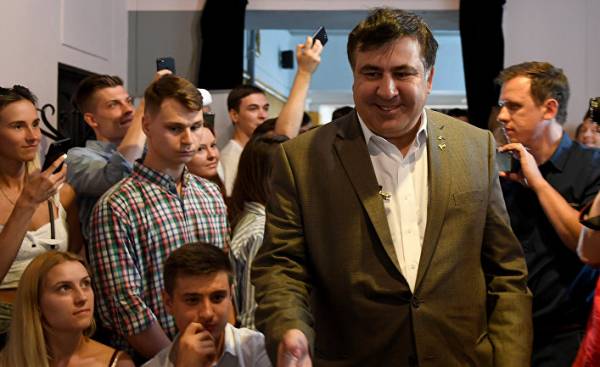 President Roosevelt is credited with an expressive opinion about one of the Pro-American dictator: "He, of course, son of a bitch but he's our son of a bitch". This phrase has become a universal principle that can explain the essence of political opportunism, not only in USA but also in other countries.
It came to my mind when I saw a touring in Poland, Mikheil Saakashvili. In the homeland of the former President of Georgia was charged over a crackdown on the protests, abuse of power and embezzlement of budget funds. He declared in the international search. However, this did not prevent him to spend a few days in Warsaw. By the way, without a valid passport, because he was deprived of the Georgian and Ukrainian citizenship.
Tbilisi Prosecutor's office sent a request to extradite Saakashvili, but I'm sure he can come to Poland without fear of the consequences, because he says exactly what he wants to hear the current government. "Smolensk catastrophe — Putin's revenge Lech Kaczynski (Lech Kaczyński) because he was active during the Russian-Georgian conflict in 2008 and took during his visit in Tbilisi resolute position," he said.
Putin, in his words, is "the bloody assassin who loves to kill" that "decided to kill Kaczynski and the idea of an independent Poland". Such words are more important than any passports and visas. Who knows, maybe for his achievements, Saakashvili will become the pole and will travel around the world with Polish documents.
What with the events of 2008? The special EU Commission under the leadership of Swiss Heidi Tagliavini (Heidi Tagliavini) conducted an investigation which revealed that on the night of 7 to 8 August, the Georgian army began military operations to capture South Ossetia, and this move was not a reaction to the invasion of Russian troops. In short, the military conflict was started by Georgia, not Russia.
When the whole world was watching the Beijing Olympics, Saakashvili decided to become a hero. What he expected, unleashing a senseless war? For a quick and easy victory? The inaction of Russia? Military support of the United States? That he will strengthen his shaky position, or will be able to surprise the whole world, whose eyes are riveted to the Olympic flame? No matter what Saakashvili was hope: they all went to pieces. The Georgian President has lost all he could lose. And now? He enjoyed posing as Robin hood. But where was it Sherwood forest?
Leszek Miller — Prime Minister of Poland in 2001-2004
Comments
comments