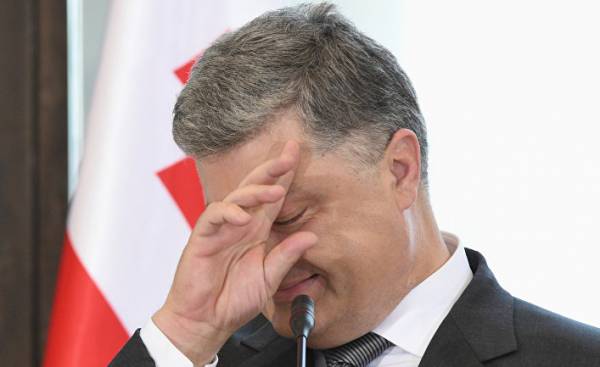 Ukrainian oligarch-President Petro Poroshenko has never been so unpopular. A public opinion poll conducted in April 2017, shows that he fully trusts 1% of the country's citizens, while 16% trust it partially. 76% of Ukrainians say that's a bit negative towards him.
It is reported loyal to the Maidan, the Ukrainian newspaper Kyiv Post.
Kyiv Post writes that Poroshenko in spite of his promises, completely failed to do anything with corruption and even the opposite — a hindrance to democratic reform and fighting corruption. The newspaper writes that corruption and lawlessness are the main obstacle for new investments.
Unlike Poroshenko, the popularity of his opposite Russian President Vladimir Putin is 86%. We here in the West, Putin may like or dislike, but there is no doubt that he has strong support of his people. But our favorite Poroshenko do not. Norway, as you know, gave the Poroshenko regime hundreds of millions of Norwegian kroner, it is not interested in where the money went.
Ukrainian oligarchs than ever are swimming in wealth at the time, as the average monthly salary in the country at present is $200. Opposition politicians claim that people "die because of miserable living conditions". Compared with the year 2016, the population decreased by 170 thousand people in the first place because everyone who can flee the country.
According to the economic University of Kiev, the high mortality associated with poor living conditions, rising epidemics and widespread abuse of alcohol and drugs.
Life expectancy of men in Ukraine is currently 66 years.
But Nazism flourishes. Electronic newspaper Stars and Stripes reports that the volunteer battalion "Azov" in the summer of 2017 organized for Ukrainian children military training camp.
June 11, 2015, the U.S. Congress unanimously decided that henceforth the United States is prohibited to provide volunteer battalions "Azov" military training and supplying them with arms. And now we can not be afraid to say that they are Nazis: after all, it was said unanimously by the U.S. Congress.
Comments
comments