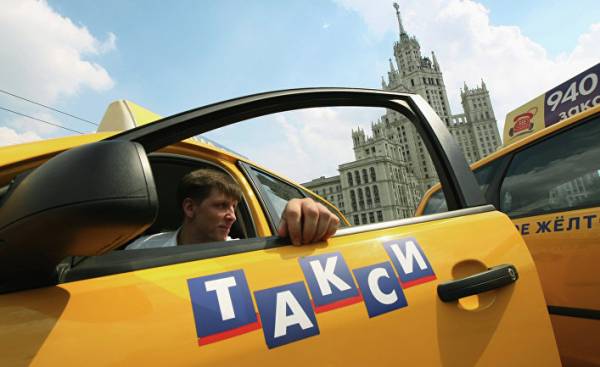 Moscow — Arkady Once put a knife to her throat. "The two juveniles wanted to Rob me, one of them held a knife at my throat, the second sharpened screwdriver". They demanded his money and his car. But they failed to scare him. "I'll take you, — said Arkady drunk young robbers — not that you will have problems when you get to check for alcohol." He rolled them until dawn. "They slowly sobered up and realized what I'd done." When they got out of the car, they apologized to Arkady. He did not call the police and let them go.
It happened eight years ago, when Arkady was in my last, fifth, rate. A taxi was his part-time job, and raids on provincial Russian roads were not uncommon. But Arkady Nikolaev loved these roads, with his degree in electrical engineering, he could not find a well-paid job in the Volga city of Cheboksary. And Arkady loved the car.
On its first compact car "Lada" he earned in 20 years of heavy manual work as a coil winder transformers, it was followed by the following "Harmony", "Ford Focus", "Toyota Camry", another "Toyota Camry". Arcadia is now 30 years old, he's married, has a child, he was a taxi driver — and that's fine. "In a month I get from 100 to 150 thousand rubles", — he said. In terms of this 1.5-2.1 thousand Euro, higher income for the middle Volga region.
Considered mafia
A few years ago, more than half of Russian drivers taksovat "in the black" without a taxi medallion and license. Usually people stood on the road and waved, then to bargain about the price with the first stopped driver. Taxi drivers were considered a mob, largely because of their coordinated predatory pricing at airports and railway stations. In Moscow declared amount, comparable to the prices for Avia – and railway tickets.
Digital globalization put an end to that and changed the taxi business in Russia. Through applications to large enterprises and intermediary companies, such as Yandex. Taxi, Gett or Uber, drivers dictate very low prices. In Cheboksary, a city with half the population, you can book a taxi for one Euro, in Moscow for one and a half euros.
"Now, every taxi. If four people are thrown off by taxi, the trip will be even cheaper than the bus," says Arkady Nikolaev. "I once drove a homeless man, who had a nightmare". Now, however, especially in the winter months, when seasonal construction workers returned home from Moscow, and also hired the taxi drivers in the city becomes very difficult to earn.
Arkady made their findings of dumping prices. He not only established the gas equipment on the car to reduce the cost of fuel is about 50 cents per liter. He opened his own taxi service called "Arcadia": 40 drivers on expensive cars, which he runs from his own machine using two Samsung smartphones through the app Whatsapp.
Just now he sent his colleague on the car "Mitsubishi Pajero" to the client — tour of the city for 200 rubles. But Arkady goes to another call. Among the customers who opt for travel in expensive cars, he prefers wealthy people who need to travel long distances.
Its customers go to the nearest international airport in Kazan (160 kilometers), at the business meeting in Ulyanovsk (215 kilometers), at the next performance the actors during a theatrical tour in Penza (490 kilometers), or just go home to Moscow (668 kilometers).
"Travelling long distances pays off because on our cars the business class, we also take the rate of "economy"," — says the taxi driver. His favorite route is "not enough potholes and trucks" — the track in Tatar Kazan, 160 kilometers, for which he earns the equivalent of about 37 euros. "But my record was on a trip to Ukhta in the North-West of Russia and even further in the Arctic". Arkady smiles: "1.3 thousand kilometers."
Unpleasant guests
Who is a good taxi driver? "One who has a nice, clean car" — meets 30-year-old driver. And the one who can keep his mouth shut if his passenger did not wish to communicate.
Sometimes and now get pretty nasty customers. And at night Arcadia remains and then asked if he could bring prostitutes. "No, we work legally," — he answers shortly. Recently a drunk woman when boarding started complaining of long waiting time. His objection that then she should complain to the company Manager, she yelled at him that he should keep my mouth shut, and then wanted to forbid him to answer the call. It went so far that he stopped and asked her to leave. "In the end, her husband, who was also sitting in the car, long time for her to apologize".
It is not surprising, because now had a new rule: whoever is trying to stop the car tonight on the road will have to wait so long and pay a lot more. "And it's not safe," says Arkady.
Tough competition
Industry: "the Number of taxis, depending on the overall situation in the country may be close to the total number of all Russian cars," — said Vitaly Makhinov, the founder of the "Russian taxi exchange". According to the economic Rusbase Russia was 180 thousand legal taxi drivers, 55 thousand of them in Moscow alone.
Millions of trips: Sergey Kotov, head of the taxi, running through the app Cat Taxi, suggests that Russian taxi drivers every day carry 10% of the national population, it amounts to 15 million trips and total turnover is over 200 million euros per day. 20% of them fall on the cab companies.
"Black": but experts suspect that companies and drivers for most of their trips are calculated "in the black". "None of the players in the market do not want to make public information about the volume of their travel," says Sergei Kotov. Analysts, as before, see tough competition on the roads.
Comments
comments