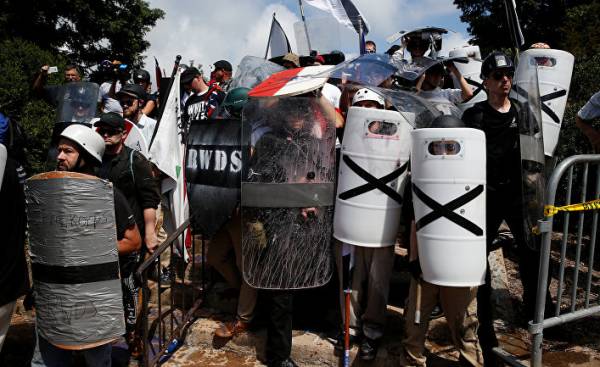 Saturday August 12 will be the black day in the history of America. The Union of white nationalists tried to hold a mass rally in Charlottesville, Virginia. Young and older Americans with a swastika. Whole groups of white citizens in camouflage uniforms and with weapons at the ready, who took on the challenge to provide "protection" for the demonstrators. Angry men and women shouting disgusting racist slogans.
The riots began with the speech of the participants in the counter protest. Then James Alex fields, Jr., 20-year-old American from Ohio, decided to drive his car into a peaceful crowd protesting against racist action. Heather Heyer from Charlottesville has killed at least 19 people were injured. Cornel West, a group of clergy joined the counter protest was a witness and said to me: "I've never seen such rampant hate."
If we lived in normal times — even though the press conference seems to you the typical American racial theater should expect from the President of the United States to unequivocally condemn hate and bigotry of white nationalists gathered in Charlottesville. But we do not live in the usual time.
Instead, the response of Donald trump sounded rather evasive. "We condemn in the strongest terms this outrageous display of hatred, fanaticism and violence from different angles, from many different sides."
Trump did not mention the superiority of the white race and not noted separately white nationalism. It is only generally expressed condemnation based on false identity: that what happened in Charlottesville, the same thing that the protests at the University of California, Berkeley or Ferguson and Baltimore. As if you can put an equal sign between what came from the mouths of these "white thugs" and principles that guided those who dared to resist them.
This is actually an old move. A rhetorical trick aimed to trap critics and to hide the true intent of the speaker. Dark-skinned people realized this from the start, when we drew attention to the hypocrisy that prevails in this country. In this case, trump didn't want to condemn white nationalists from Charlottesville, because they're on his side.
These people, as recalled by President David Duke helped his election. Steve Bannon, Steven Miller, Sebastian Gorka and Jefferson Beauregard sessions III is their outstanding representatives. And if you believe The Daily Stormer, the publication of the white nationalists, these people are very satisfied with what trump said. "He said he loves all of us… No condemnation at all. Really cool. Yes God bless him".
Of course, many politicians and experts (including me) have not failed to denounce trump. Former us Vice-President Joe Biden tweeted: "There is only one side. #charlottesville". Joe Scarborough, in turn, urged: "Mr. President, call a spade a spade! White chauvinist terrorism — that's what it is." Senator Jeff Flake from Arizona wrote on Twitter: "#WhiteSupremacy #Charlottesville does not reflect the values of America that I know. Hatred and bigotry have no place in this country." Tweets Ivanka trump ultimately sounded in a similar way. But I all the judgmental statements seem pretty flimsy. Whatever their intentions, they give a certain sentimentality. As noted by James Baldwin, sentimentality is "a manifestation of dishonesty… the mask behind which lurks cruelty."
It is easy to condemn trump's and white nationalists who participated in the demonstration — to say that they are bad people. But do not we create for them favorable conditions? How about coded racial language, which capitalizes on the fears of whites, and for several generations determines our political discourse? These rabid racists shouting their slogans, protect the monuments of the Confederacy and declare that America is a white nation, while politicians on both sides of the party divide actively spreading the myth that the election trump was the reaction of the white working class, as if what is happening to white workers, how it differs or is more important than what's going on with the workers neuropetides race. As if we — the reasons for the existence of white workers in this country has become much more difficult.
The paradox, of course, is that this so-called revolt of the industrial belt is not true. A higher percentage of voters trump compared to the Clinton voters were Americans from families whose annual income exceeds the sum of one hundred thousand dollars. Moreover, a number of studies have shown that voters trump was interested not so much economic as social issues. The people who voted for trump, was concerned that the devaluation of the American cultural ideology. When politicians among Democrats and Republicans refer to the "revolt of the rednecks", it's to a lesser extent, talks about the economic decline of the workers and more about white identity, according to which blacks and mulattoes together with immigrants are scapegoats.
These white nationalists say they want to reclaim their country, while members of Congress are taking draconian measures against immigrants, guaranteeing that this nation will remain white. It is easy to condemn the violence of these white chauvinists, when politicians discuss the question of returning to a police regime that Deplete the colored community, or challenge a policy of equal opportunity, because supposedly black students take the vacant seats from white students, or trying to deny voting rights to millions of our countrymen under the pretext of election irregularities. They all seem to be on the side of trump.
Such views are grist to the mill of white supremacy. And the same views have long fueled American politics. The election trump inspired and gave courage to those who adhere to them. Now we need to honestly admit to the fact that white nationalists in Charlottesville, and any other city to the same extent nurtured American soil as wormwood and Bessonova grass. Today, white America takes more than a sentimental condemnation of this fact. Ask yourself: can you really abandon the idea that this white nation? Can you imagine this country as a truly multiracial democracy? Or are you ready to leave this vulnerable experiment into the dustbin of history, because you refuse to implement it some other way?
Comments
comments