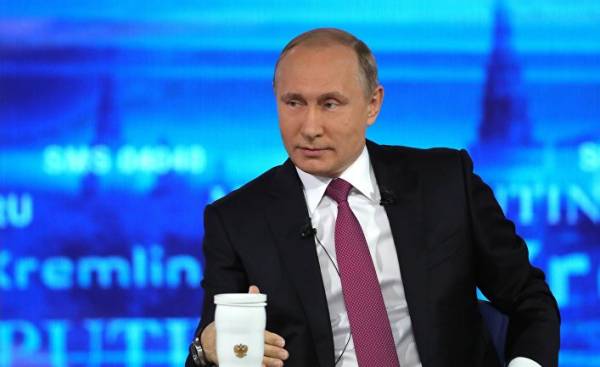 During the next straight line with the Russians, Putin behaved traditionally — grimacing, confirming the reputation of a difficult boy out of the gate with low social responsibility.
Once he was out, blazing with anger and hatred towards Ukraine. I mean his discussion of Lermontov, which he somehow attributed to 1842, although Lermontov died in 1841. Then obviously confused security officers with homosexuals when talked about blue uniforms. In short, Putin reaffirmed how much he hates Ukraine.
But most importantly, it was different. He asked Kholuy questions, which he answered impressively, but this time in the lower right corner of the screen, on all screens of the country came out of just critical issues. Like reminders of the violation of the Constitution, the number of presidential terms. Very open and blatant trolling. This has never happened. Although these issues are, of course, not voiced. Sort of a Fig on all screens of the country.
This suggests that the political elite of Russia is experiencing a serious crisis. And, perhaps, much of this so-called elite — the elite thieves of the Russian kleptocracy — has a burning desire to get rid of him and his reign. Of course, with the exception of a narrow circle of people, all whose fate is personally associated with Putin as the cooperative "Lake", etc. Because they understand that after his adventures in foreign policy relations with the West has not recovered.
Yesterday, for example, the US Senate passed new, tougher sanctions against Russia, and this threatens all of the assets of the Russian elite in the West. After all, the whole model of the current Russian kleptocracy is to Rob in Russia, but store your treasures in the West.
It should be noted that the new us sanctions are very detailed. They will hit the energy sector, military industry. They close the possibility of using new methods in the oil industry, in gas production. Sanctions are also closing Russia's access to credit. The main novelty blocked the sale of Russian weapons will be punished foreign companies who buy Russian weapons. In short, very serious sanctions. And besides, it's the moment of truth for President trump. Sanctions voted by 98 of 100 senators, and even if trump will try to veto, this veto will not only be cancelled but will be for President political suicide.
Putin is nothing new about U.S. sanctions and did not say his statement had any sense at all. Remembering the words of Merkel three years ago — Putin lives in isolation from reality. Since then the situation has only worsened.
Another interesting point of the "straight line" — an unusually large number of horrific stories about the lives of ordinary people. Immediately after his evil promises Ukraine showed two stories about life in the barracks without water and toilet. Personally I saw this as an open sabotage of the ruling elite against the groin.
Comments
comments