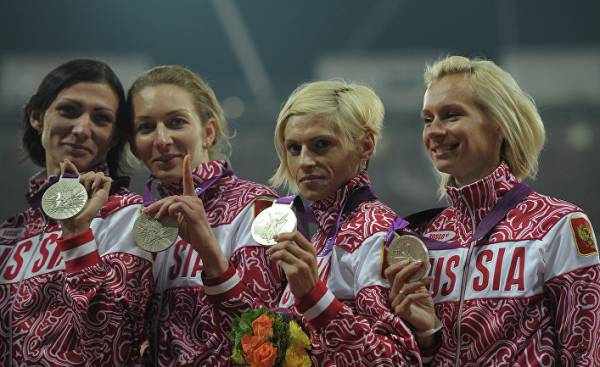 "I do not want to return the medals, because I think no one deserves them as I do," said Tatiana Firova in an interview with Reuters. The medals are stored in her safe Deposit box in Moscow.
At the Olympic games in Beijing in 2008 she won for Russia the silver in the women 4×400 meters. Then it turned out that she by no means could be considered "clean" athlete. Repeated analysis of samples during the Beijing Olympics showed that it was anabolic steroids (turinabol).
Two medals
Firova included in the Russian team that won silver at the Olympics in London four years later. Here on the dope "caught" one of her friends on the team. She also decided to leave the medal.
A total of six Russians convicted of using performance-enhancing drugs, have not yet returned the medal, which, as it turned out, they won by breaking the rules: using illegal drugs.
An investigation by news Agency Reuters revealed that two of the owner of the medals do not want to return the medals. Firova is one of them.
"At the very beginning of this case I decided that the medal I won in Beijing, will not be refunded".
"This is proof that I have achieved," she says.
He doesn't know where his diploma
Russian decathlete Aleksandr Pogorelov finished fourth in the decathlon at the Olympics in Beijing. For this he was awarded the Olympic diploma. Then it "caught" on the application of the same type of steroids that he used and Firova, and asked for the diploma to return.
He refuses to return.
"I don't know if I lost it, but I haven't seen him. But even if I find him, I don't want him back because you think that I won it fair and square," — said Pogorelov Reuters.
Expect the decision of the International court of arbitration
High jumper Anna Chicherova was one of those who had not returned the medal. Her case is still pending with the International court of arbitration for sports (CAS). She says she will return the medal, but only if what she's doping, proved to be absolutely irrefutable.
Chicherova has achieved bronze in the high jump at the Olympic games in Beijing in 2008. It, too, was caught in the use of turinabol steroid.
Still disqualified
The Russian athletics Federation suspended from participation in the Olympic games and the world Cup — after in 2015 appeared exposing the program of the use of doping, which was directed at the state level.
During the world Cup in London at the Congress of the world Federation of athletics (IAAF), it was decided to retain the disqualification of Russia. The Congress participants believe that the Russian athletics Federation and the fight against doping in Russia has not yet reached a level that would allow them to return to decent society.
The Russian athletics Federation has asked all its athletes convicted of doping, to return the medals.
Comments
comments