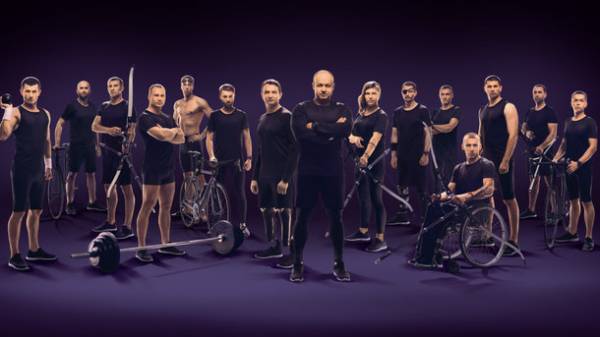 In September 2017 in Toronto for the third time will host international tournament "Igri Neskorenykh". It is traditionally attended by members from all over the world who are wounded or injured during the line of duty. This year at the Invictus Games (the original name of the competition) will be presented the Ukrainian national team. The selection was supervised by the Ministry of defense of Ukraine, jointly with the STB.
The list of disciplines of a small — rowing at the gym, archery, swimming, powerlifting, athletics, road Cycling. Apply to participate could attend. The guys themselves had the opportunity to choose a sport (or even one!) regardless of the experience. Of those applications selected 30 people: 15 in the main team, 15 — in stock. The selection was harsh, and this the participants was prepared mentally — stressing that anyone who does not pass may try to do this again and again in the following tournaments.
"Today," went on the sports base where they are training, to see how engaged you guys. Training there serious: in addition to sports — English language and communication with psychologist. But if the sport and challenges the guys to get used to the increased media attention they are still shy and only learn to speak on camera, getting used to the role of the "TV stars".
KATYA: MILITARY AND ROMANCE AND COCOTHERAPY
In the Ukrainian team — the one and only girl. "Katerina Mikhailov, 29 years old, a veteran" — the pictures on the website "Igor Neskorenykh" looking girl with a very serious look. She was one of the first to come to Maidan, where he met with Peter. He is from Ivano-Frankivsk region, she is from Dnipropetrovsk, but common cause and mutual sympathy drew them together almost immediately. And when the fighting began in the East, Kate enlisted in the battalion "Aydar". Peter said, — they say, I'm going to defend Ukraine, and you — as you. "What was he supposed to do? — smiling girl. — Went to war together."
Kate was a paramedic and fighter reconnaissance. "Was it scary for Peter, when he left on a mission?" — ask. "Yes and no, like all military men, our heroine of few words. — In war, you can not show emotion, otherwise you're not a fighter. We knew what was coming, were prepared for the fact that they can die, friends, family, ourselves… This is the psychology of war. There are unconcerned about such things. When Peter went with the scouts, could only cheer him up, stay, go, I'm with you… He, too, was nervous when I went on a special operation, and he remained. Then the commander realized that we can't be separated that together we morally better. Was even called "a couple of budgies" (smiles). And included in the reconnaissance of both."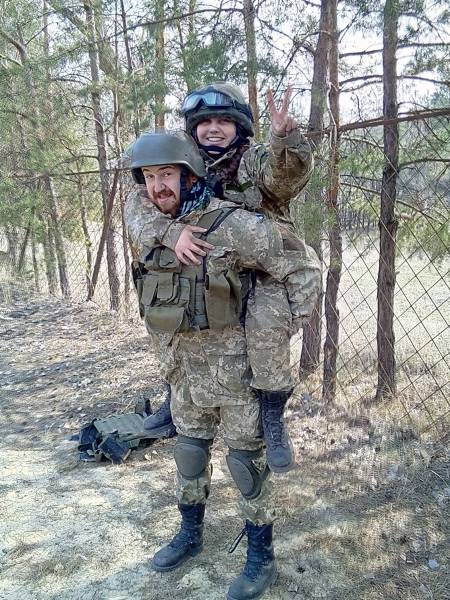 The two fighters. With her beloved Peter
During the special operation on liberation of Luhansk airport Kate and Peter were shell-shocked, were in the same hospital in Poltava. "We are very supportive of each other, went together to lunch in the dining room. Peter really cared about me — that Apple will bring the ice cream… So we don't care about the hospital atmosphere, psychologist-volunteer organized cultural program, we walked around Poltava. After hospital returned to the front. And after demobilization went home".
Soon Peter and Kate went to Riga to stay with his aunt. There he made his beloved proposal. "It was so beautiful! — says Kate. Winter Riga, Freedom square and the words "marry me". We dreamed about it in the war…". 27 Feb 2016-martial affair ended a fun wedding.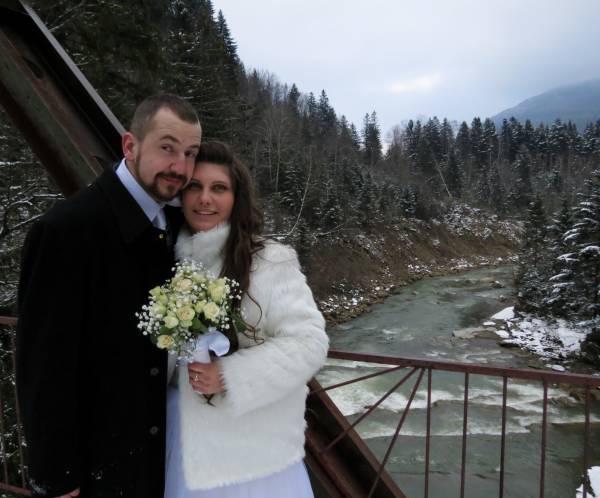 Wedding. Celebrated in the Carpathians
Now the couple lives in Lviv. "Peter works in the famous cafés, where they have 14 cats, — Katya smiles. For him this work, and rehabilitation".
Learning about "Igri Neskorenykh", she immediately applied. On the choice of the sport discipline has affected the hobby of historical reenactment: Kate has already tried to shoot from the "old" bows. "I participate to show their skills and represent the native battalion "Aydar". And most importantly — to inspire the other soldiers to not give up and believe in yourself".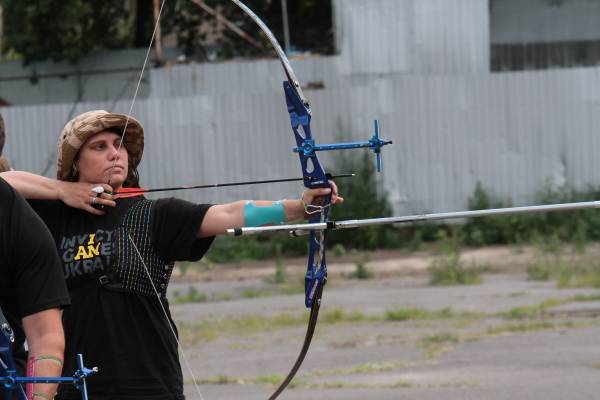 Training. In Toronto, it is important for Katie to compete
ROMAN AND SERGEY: TWO HEARTS AND ONE BLOOD GROUP
Roma Panchenko was only 19 when his marine-contractor, in the summer of 2014 was wounded in the battle. A stray bullet pierced a lung and hit the spine. At first there was only pain, blood, despair — more from the fact that he served for only five months and knew here on the front line. And only after a month and a half in the hospital, I heard a sentence: to go you will no longer… "Covered from the capital, is reluctantly recalls the romance. Depression, hopelessness, nobody wanted to see… Even the care of relatives annoying, to be honest, didn't want to be pitied. When the hospital met with Sergei as if his brother met".
Sergey Kalityuk was also wounded in that battle: five bullets, one of which was held tangentially on the edge of the helmet. Another centimeter and the end… the Guys served in the same brigade, received similar wounds, they have the same blood type, both because of a spinal injury was wheelchair — the guys had a lot in common. After the operation in Kharkiv both moved to Lviv. Already in the hospital, they got along pretty well — supported each other, and to endure the hardships of sudden immobility so it was easier…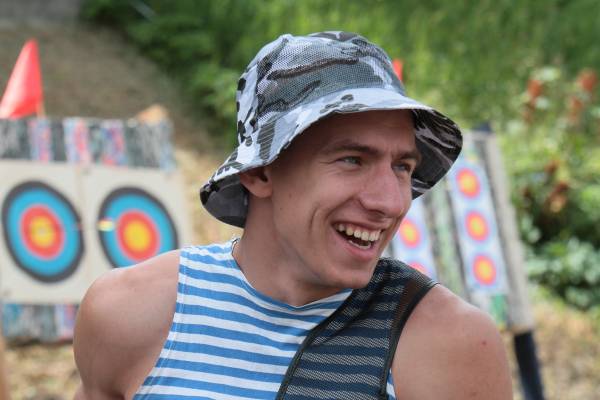 Sergey. Believe that next year will definitely get in the team!
After the hospital both decided to remain in Lviv. "I morally, it was difficult to return to his native Dnieper, — says Sergey. — There I lived "on the ground", and every street, the familiar childhood places, trodden along and across, was perceived very difficult. And here we would start all over again — new city, new people… Together easier and more fun."
Roma after the wounds were engaged in swimming and even managed to get the first adult class. Learn about the selection in the Ukrainian national team "Igor Neskorenykh", my friends decided to try their hand. That's only in which of the six disciplines? And again, their choices were: archery. Roma says: "When I found out that in the category of navigation I opponents will be much stronger, I decided to try a different discipline, where surely there will be more chances".
I had no experience of both, but more serious injury Sergei prevented him to qualify in the team. "I was upset when I took it, but Sting no — says Roman. Over three years were like brothers, so at the training camp in Kiev, we still remained — I said Sergei as his companion. Great, training together. Next year he will definitely be in the team, I'm sure! Just a pity I wasn't there two years in a row, you cannot participate."
SEE ALSO
Touching brutality: half-naked soldiers took part in the photoshoot with kittens
Pleased with the guys and coach the sport of archery Les Shah: "They are great: you can laugh and work seriously when you need to. Not complaining though Sergei is much more complicated. At first it was difficult for him to hold the body, he knelt when firing. And then he invented a special belt on the shoulder, which keeps it in balance".
While the boys mastered in Kiev, archery, Lviv is in full swing repair: Roma and Sergei, the government allocated around the apartment. "In other entrances will live — happy novel and adds: — of Course, still sometimes "covers" rolls and depression. But I know that many are inspired by my example. It gives motivation to move on. What makes you go forward? Girls! They support, help to live."
Guys are recognized: while in private life there is no time. But one day they will walk in the weddings of each other!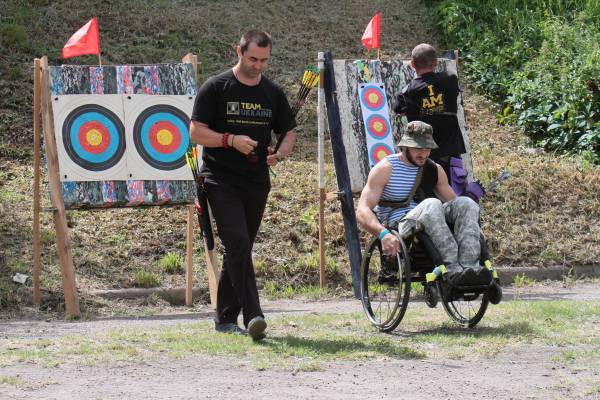 Friends. Roma and Sergei are supporting each other in training
ALEXANDER: PROFESSIONAL ATHLETE
Blue eyes, clear and steadfast, strong figure — say about such a reliable man. That this strong man has no legs, not even a guess his team: Alexander Tabanez coach in powerlifting in one of the largest network of sports clubs of Kiev.
The injury was in 1992, when he served in Transbaikalia. He completed his service in the army in 2012, the officer of the General staff of Ukraine. "The civil life, I went in invis on the coaching faculty, says our hero. — And on a common basis". Now Tabanez — master of sports of powerlifting and candidate in masters rowing.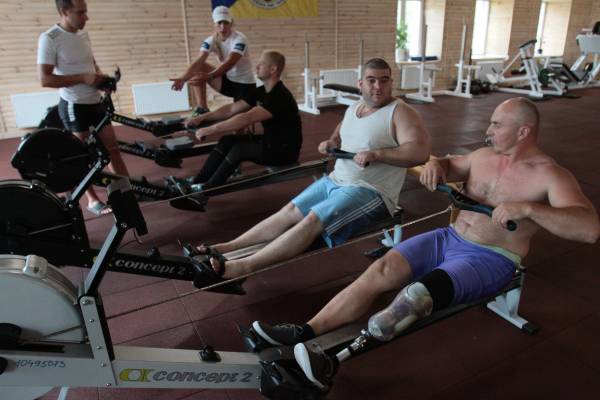 Mentor. Despite the fact that Sasha was in the backup team trains on a par with all
"After 25 years of service develop an iron self-discipline, so the break-up of the transition to "civilian life" I felt. Prepare children for the Championships in powerlifting. He has also participated in paralimpiade, so that in 50 years, many young can give a head start!" — Sasha smiles.
How to motivate and inspire sports people with disabilities? "If the patient wants to live, no one will be cured, — Tabanac. — I know how to find the right arguments, but a person must be willing. Most, of course, go ahead. But there are those who did not want to fight. What does help?".
About "Igri Neskorenykh" Alexander learned by accident, and when he was offered to try yourself in rowing at the gym, agreed. "New is always interesting. Moreover, on the same basis, I train my sons, and they kayakers. And the wife is home ill for us along with 5-year-old daughter," says Alexander, adding: in Toronto wants to demonstrate their abilities and meet with veterans from other countries.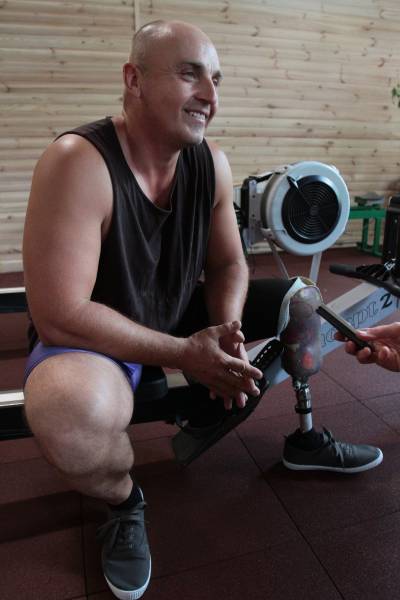 50 and young will give odds!
BRAVE AMERICAN
Among the winners of past Games — a 33-year-old Sarah Rudder from the United States. In 2001, as a corporal of Marines, she, along with other military helped pull from the wreckage of the victims of the September 11 attacks. Leg Sarah struck a piece of concrete floors. The result — amputation of the…
But Sarah did not give up. And became a sensation Invictus Games: 9 gold and silver medals in three kinds of competitions!
"I was amazed to arriving at the tournament, she remembers. Next to me people competed without two or three limbs, in wheelchairs. I looked at them and said to myself: "If they did, then you sure can!".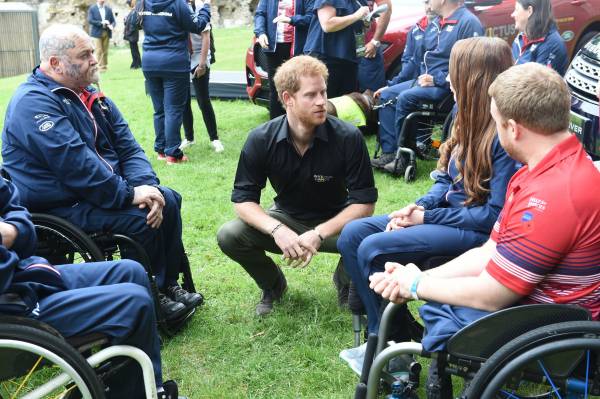 Sarah won 9 medals!
PRINCE HARRY FOUNDED THE TOURNAMENT AFTER AFGHANISTAN
As you know, the heir to the British throne didn't "cut" from the army, and honestly went to serve the country. For two years in Afghanistan, Prince Harry has seen a lot of his countrymen, crippled in the line of duty. When he returned, he organized the first ever contest for servicemen and veterans injured in combat — the Invictus Games. First of all, to maintain their spirit and inspiration to those whose lives were divided into "before" and "after".
The first tournament was held in 2014 in London. The whole world stood in admiration of the fortitude and will to live of people who were injured defending their country. In 2016, the success of the London competition was repeated in Orlando.
Daring and the will to win here is not valued less than sports results. So, Ulfat al Zviri from Jordan first sat in a racing wheelchair and came to the finish line… last. She had no experience and sports training, but she's not out of the race. At the finish Ulfat waited for the applause of admiring fans.
Achievements and victories of the participants (in 2016 year, there were over four hundred) from 14 countries prove injury and disease do not mean the collapse of all dreams and achievements. They give hope to those who despair. Hope is a lot. A lot, if you're inspired and you're not alone.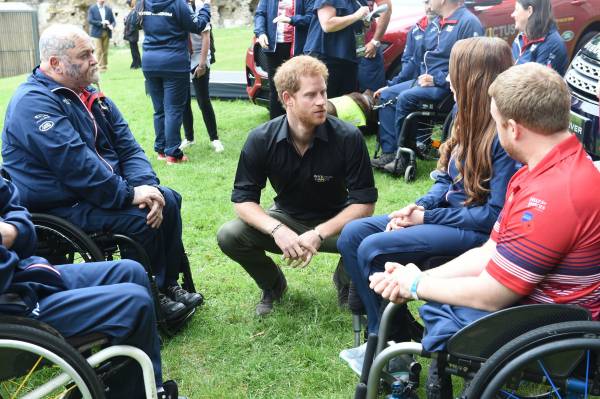 Monarch. Spoke personally with the participants and supported them
Comments
comments