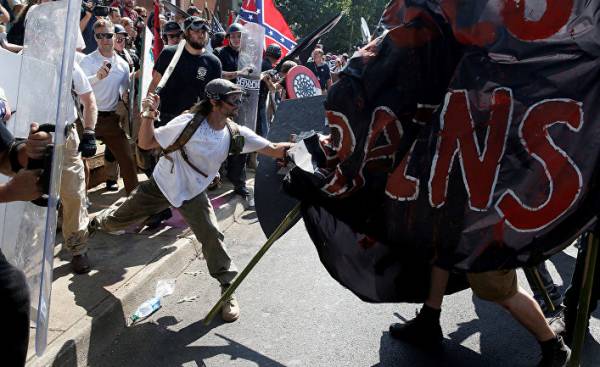 Several U.S. Republican senators regarded the situation in the city of Charlottesville, where clashes between supporters and opponents of right-wing organizations, as an act of domestic terrorism.
"After watching the horrific video where a car deliberately crashed into the crowd of protesters, I urge the Ministry of justice to immediately investigate and prosecute this outrageous act of domestic terrorism," the statement reads Senator Ted Cruz posted on his page in Facebook.
The incident happened on Saturday in downtown Charlottesville. The car crashed into a group of opponents actions of the far right and disappeared from the scene. Later detained the driver.

Senator Marco Rubio on Twitter also described the situation in Charlottesville "terrorist attack" committed by supporters of the "white supremacist".
"Domestic terrorism in Charlottesville should be condemned by every one of us. Otherwise the hatred just encouraged," he wrote on Twitter Senator Tim Scott.
Supporters of right-wing protested against the authorities ' plans to remove from Park Release (black slaves — approx. ed.) a monument to Confederate General Robert Edward Lee. The first clashes of the protesters with their opponents and the arrests began Friday, when hundreds of ultra-right held a torchlight procession through the city.
In total, according to various estimates, in Charlottesville came from two to six thousand right-wing, including members of neo-Nazi organizations and "Ku Klux Klan".
The authorities introduced in Virginia a state of emergency. As a result of incidents in the city killed one person and injured another 34. The US Federal government began its own investigation.
Comments
comments