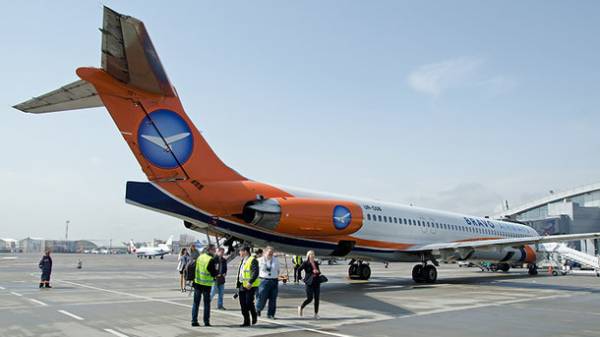 Embassy of Ukraine in the Republic of Turkey announced that the airline Bravo Airways delayed the flight "Antalya-Kiev" in connection with the fault plane. This flight created 171 passengers.
"The Embassy asked the passengers of the flight BAY 4306 "Antalya-Kiev", which must be made by the company Bravo Airways, in connection with the problematic situation related to the cancellation of the specified flight for unknown reasons. Now the Embassy is trying to establish a connection with the specified airline and responsible tour operators to accommodate passengers prior to departure", – is told in the message of Embassy of Ukraine in Turkey visit on the social network Facebook on Friday.
At the same time, the Ukrainian Embassy in Twitter clarifies the reason for the delay of the flight: "I Received a message about cancellation of the flight "Antalya-Kiev" airline Bravo due to a malfunction of the aircraft. Working to resolve the situation with Ukrainian passengers."
As UNIAN news Agency reports, the assurances of the carrier 110 of the passengers were placed in hotels and 61 people is at the airport because of the congestion of hotels in the holiday season not everyone has enough space. Hotels are first placed passengers with children and the elderly, and those who remained at the airport, every three hours meals.
As the Director of the Department of consular service of the foreign Ministry Sergei Pogoreltsev, representatives of the airline promised to fix the aircraft and is still used today to send the citizens of Ukraine home.
"According to our information, people are not abandoned to their fate. We immediately established contact with the carrier, he has an understanding that the situation needs to be resolved as quickly as possible", – he added.
Sufferers also noted that the airline took the decision to repair the aircraft at the airport. To do this, the engineer from Kiev arrived in Antalya, he brought the necessary spare parts. After about 40 minutes the engineer will know how long it will be possible to fix the plane. Also, the carrier promises that in three hours the plane can fly.
We will remind, in Florida crashed American fighter.
Comments
comments