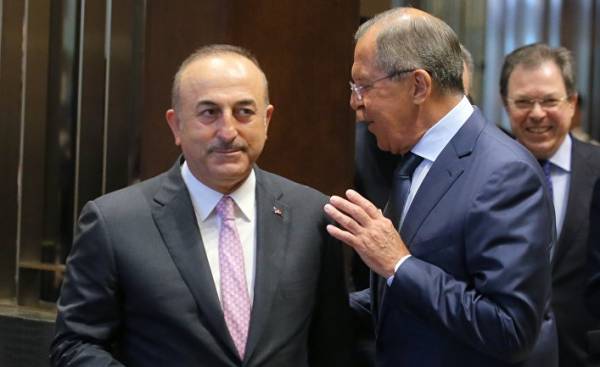 The question of the Party "Democratic Union" (PYD), which Ankara is facing a crisis in relations with the United States, there will be problems in relations with Russia. It turned out that Russia has expressed the need to include the PYD in the Syrian opposition.
Astana process, initiated by Turkey, Russia and Iran to maintain peace and create areas of de-escalation in Syria, mired in the dilemma due to Idlib. While the talks between the foreign Ministers of Russia and Turkey Sergei Lavrov and Mevlut Cavusoglu (Mevlüt Çavuşoğlu) in Manila, it was decided to hold preliminary talks in Tehran on August 8-9, the date of the meeting in Astana is not yet clear. As it became known after the meeting in Manila, Lavrov, expressing the expectation that the coalition led by the US using its influence on the fighting on the battlefield side, insisted that the PYD must also be attributed to the National coalition for Syrian revolutionary and opposition forces (SNC). The goal is to ensure that the PYD in the Geneva process, which is the basis of the talks on Syria.
4-5 July in Astana was held the fifth meeting on the Syrian settlement, and one of the leaders of "Jaish al-Islam," Mohammed Alloush (Muhammed Alluş) announced its withdrawal from negotiations. In Manila during a discussion about how the decision about areas of de-escalation, the creation of which is expected in June this year, will be applied in Idlib, Lavrov criticized the reluctance of some groups to sign the ceasefire agreement. Lavrov noted that the US and Turkey should use its influence in the region. It is also reported that during the fifth round of the Astana talks Turkey and Iran opposed to control over the areas of de-escalation in Eastern ghouta and Dar'a provided US with Jordan. Now, if all those disagreements the parties, who are meeting during these days in Tehran, will be able to reach agreement regarding Idlib, the talks in Astana is expected to take place in late August. In addition, on the sidelines of the ASEAN forum in Manila, US state Secretary Rex Tillerson (Rex Tillerson) for the first time after sanction decisions have met with Sergey Lavrov.
Pressure in connection with the Geneva
It became known that the Turkish government, frequently criticizing the U.S. for supporting PYD, despite the red lines of Turkey in Syria, is under similar pressure from Russia. It is reported that Russia insists on the need to incorporate elements of PYD in the composition of the SNC, which is an umbrella organization of the Syrian opposition. It is noted that this requirement of Russia caused by its attempts to balance U.S. relations with the PYD / people's protection Units (YPG), in Syrian opposition initially opposed this proposal. At the talks in Manila Cavusoglu said that Ankara is also unacceptable.
Comments
comments