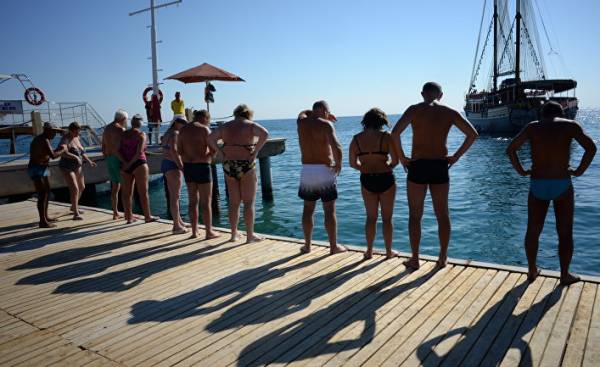 In the period when the number of Russian tourists who visited the Mediterranean coast of Turkey, exceeded two million in Moscow began to spread information about the fact that "in the hotels of Antalya is rampant epidemic infectious diseases." The news that Russian tourists have contracted the virus, prematurely returned from Turkey have been refuted by many authorities.
In the messages, first published at the end of last week, mentioned that several of the Russian tourists in the Antalya hotels, there are signs of the virus known as Coxsackie. Then a respectable Russian newspaper "Izvestia" has published yet another post about Coxsackie virus under the title "Turkey is hiding the epidemic." The publication noted that Russian tourists, vacationers mainly within the hotels in Kemer, Belek and side are forced to interrupt their vacation because of the infestation.
On Tuesday joined the Rospotrebnadzor, the Russian office for supervision of consumer rights. It was reported that the Ministry of health of Turkey requested information about the said virus, and for Russian citizens who became ill in Turkey, was established a hotline.
While in Moscow daily news on the "epidemic of Coxsackie in Turkey" says that Turkey wants to hide this situation. Again, the Russian newspaper "Izvestia" suggested that Turkey prefers to ignore this fact, because if she acknowledges the existence of the epidemic, it will have to reimburse the cost of paid tours.
"Not true"
Meanwhile, the head of the Directorate of culture and tourism of Antalya Ajara Ibrahim (Ibrahim Acar) after the spread of these rumors in Russia made a statement the Agency "RIA Novosti". He noted that the Russian media about the epidemic in Turkey is not true. Our told that in Antalya, in the whole Mediterranean region of Turkey there is no epidemic of Coxsackie virus.
Coxsackie virus, which is transmitted by airborne droplets, accompanied by children and adults with symptoms such as fever up to 40 degrees, diarrhoea, nausea. On the body of a diseased person can also be observed watery bubbles.
"Turkey has solved the problem"
The head of Federation of Turkish hoteliers (TÜROFED) Osman Ayik (Osman Ayık) said: "Coxsackie — variety smallpox. In the literature it is also called "syndrome rash hand-foot-mouth". In General, distributed to Russian children. In Turkey, too, once had a place but now we do not see in children such diseases. Turkey solved the problem. The incubation period of the disease is two weeks. In Antalya Russian rest on average seven to eight days. Logically, they can come with this disease. Two years ago there were frequent complaints, but this year we have not received any. Still of our hotels have not received any messages in this way. The number of tourists from Russia is unbelievable. Every time it happens, the Russian press is necessarily overlook this kind of false news against us."
Comments
comments