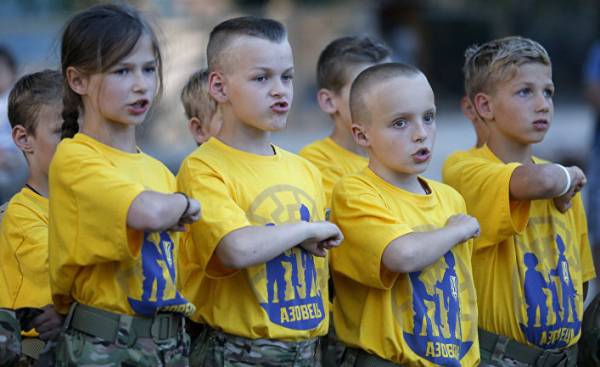 The conflict in Ukraine continues for the third year. Some parents are so concerned that sending their children to summer camps where they can learn to deal with Pro-Russian separatists.
Almost 10 thousand people were killed in the fighting between Russian separatists and Ukrainian forces in the East of the country. Despite an official truce, daily reports of dead and wounded.
All members of the volunteer battalion "Azov", known for his right-wing views, fought on the Eastern front. They're organized a two-week summer camp, where 850 children from all over Ukraine receive military training.
"Azov" is a part of self-defense and was initially funded by the oligarch Igor Kolomoisky.
Members of the volunteer battalion has been accused of human rights violations in the war zone in Eastern Ukraine. Human Rights Watch and Amnesty International are getting from the reliable sources of reports of torture and other violations.
Combat training of children is characterized by a nationalistic mindset. The leaders of the volunteer battalion "Azov" has recently dismissed allegations that they have neo-Nazi views.
Many allegations, however, did not prevent the parents to pay about 800, – CZK for the fact that their children were taught the veterans of the Eastern front.
"The children here become stronger and more disciplined," says Irina Shvets, mother of thirteen-year-old boy sent it to camp.
Comments
comments