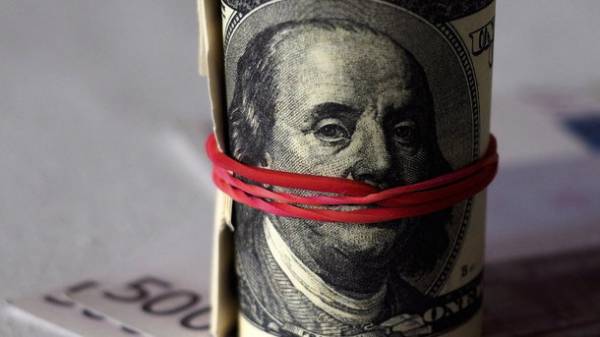 Traders bet on further weakening of the dollar continues to rise, analysts believe that the downward trend of the national currency of the USA would further support the us stock market, writes The Wall Street Journal.
The fall of the dollar against a basket of currencies in recent months was the most significant in several years due to restrained inflation and doubts that the Federal reserve system (the fed) would continue raising interest rates in the near future.
So, in tandem with the Euro, the dollar has lost more than 12% since the beginning of the year, and the fall of the dollar index ICE in January-July was the highest since 1986.
Last week, the rate on the weakening of the dollar amounted to 7.9 billion US dollars – a maximum since the beginning of 2013. About according to data of the Commission on urgent futures trading in commodities (CFTC) of the USA.
SEE ALSO
What will happen to the dollar exchange rate in Ukraine: analyst forecasts for a week
In the first place a weak dollar is beneficial to U.S. exporters, and the companies included in the list of S&P 500 index, in 2016 received 43% of its revenue outside the United States.
Thus, the current trend in the Forex market enables the stock market to update historical highs. According to analysts Morgan Stanley, the weakening of the dollar by 2% increases the profit of companies from the S&P 500 by 1%.
August lull makes traders look forward to the end of the month and Symposium of economists and representatives of leading Central bankers in Jackson hole.
In 2016, this event began the rally in the dollar index ICE, which lasted 19 weeks, because the speech of the fed Janet Yellen was harder than the market expected.
SEE ALSO
Why the Euro in Ukraine soared record: the experts described the reasons and given the forecast
This year, according to Financial Times, the impact of the Symposium can be even more substantial, but this time the headliner is expected to be the head of the European Central Bank (ECB), Mario Draghi, not Yellen.
Draghi for the first time in three years, will speak in Jackson hole speech, and analysts do not exclude that he will make a major announcement about the future of "quantitative easing" – in this case, the rise of the Euro could significantly increase.
However, some experts believe that the dollar is too early to write off his rally will resume in the near future.
"The dollar is oversold. If (US President Donald – Ed.) Trump will do something, his achievements will be a pleasant surprise for the currency," said a senior investment Manager, Aberdeen Asset Management James These.
Earlier "Today" I wrote about why Ukraine has not received a credit tranche in July, as envisaged in the Memorandum with the IMF, and the obligations assumed by Ukraine to the Fund but not yet managed to do.
Comments
comments