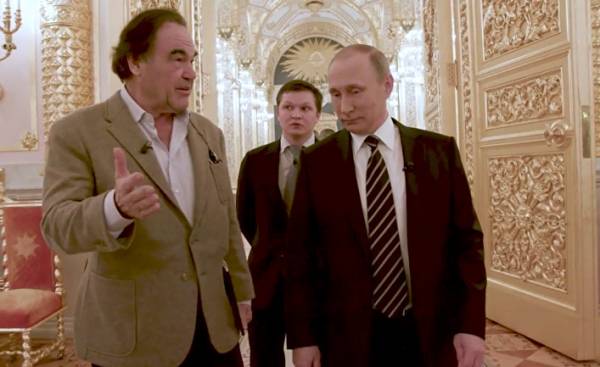 He is criticized because he acts as a propaganda arm of the Kremlin. Oliver stone believes he just gave Putin a chance to explain.
— Dagbladet: "we Will talk about the Starmus festival, or just about Russia?
Hollywood Director Oliver stone sits in one of the halls of the Congress centre, Trondheim spektrum and seems a bit annoyed. He made a presentation in the Packed to overflowing the meeting room during the science festival Starmus, which is held in Stavanger, and now meets with journalists from around the world.
Most stone want to talk about the festival. And journalists want to ask him questions about his new documentary "Interview with Putin". The documentary consists of four parts, was the result of a 20-hour interview with Putin one on one, which the stone was removed in the last two years.
Especially journalists interested in what stone thinks about the criticism, which had been a documentary. Critics argue, in essence, that he became a stand microphone for Russian propaganda, which involved the President of Russia.
"Do you really think that I would have spent two years of his life to be a PR Putin? Do you not respect my work? You think I bought, what I paid?" — responsible stone to a question from Adresseavisa.
He worries even more.
"I'm not Putin's PR"
Stone all the time rejects the assumption that for Putin he is just a mouthpiece.
And did he not fear that he will be seen as Putin's PR man?— here is the question asked a newspaper reporter from Trondheim.
"Trolls on the Internet say anything. They say he bought me and paid for my services. Look… I studied that. I did everything I could, and proved the truth of the old adage that every case has two sides," continues stone.
It was one of the first questions.
The first also do not like the star Director. When the NRK reporter asked stone a question on unconfirmed reports from Russia that a video segment, which Putin shows stone in the documentary is fake, it begins to seem that the patience of the Director is about to end. Before the press conference starts for real.
"You want to talk about it "bloggercom shit"? About the bloggers who say that. Okay, okay. I don't know. He took out his phone and showed it to us, we removed it and he said that it (the Russian military, who in Syria bombed ISIS — (a terrorist organization banned in Russia — approx. ed.)). Why would he falsify? The Russians did a lot to fight against ISIS in Syria. They had "wibbily" from Syria that shit," says stone.
"And you start talking about trivial things. OK, OK…"
(Not)cool enough
Stone says much more interested and witty when he criticizes the attempts known to Western, and especially American journalists to make a name for himself thanks to the tough stance against Putin. "This is really a problem," said stone.
However, a documentary by Hollywood film Director, Creator of such major films as "JFK," "Platoon" and "wall street", in part criticized because he was not tough enough towards Putin.
However, not all critics think he was too soft. Some praise the attempt by stone to do what, according to the Director, he did give the President of Russia Vladimir Putin a chance to explain.
The annexation of the Crimea, about the alleged hacking in the eve of the American election on Russian law that prohibits "propaganda of homosexuality".
"It allowed him to speak for four hours — in Russian, with the Western public. This had not been done ever," says the stone, and adds something else about the project, which took two years:
"And I think it turned out. The camera does not lie. I think it's also important to capture the way he rests his eyes."
"Russian soul"
So, what the West does not understand? In Russia, Vladimir Putin and the Russian people, which force the media to ask all these questions? Questions that are explicitly concerned with stone.
Dagbladet also asks this question to stone. Before answering, he makes a long pause, and then sighs:
"Maybe most importantly of what you don't understand, it's the Russian soul," says stone, 70-year-old American, born in new York.
It seems that Russian journalists in the audience agreed with him.
After a few minutes of conversation stone concludes:
"It's just madness to keep them (Russia) for the enemy."
Comments
comments