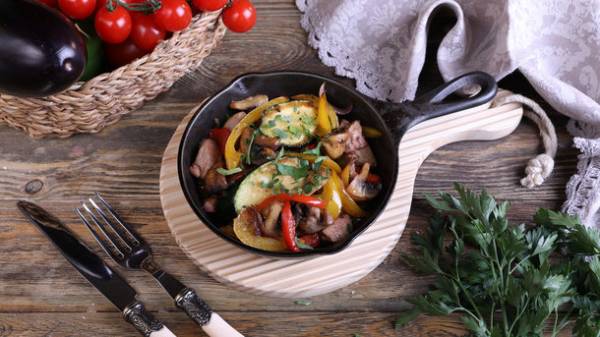 Before you purchase the pan you need to remember that the height must be at least three inches, and the thickness of the bottom start from four millimeters. This kitchen tool is better to pay more money, but be sure that it will last a very long time, writes Sobesednik.ru.
Cast-iron perfectly and quickly heats up, not deformed, not afraid of acid, not come into contact with food, this pan is easy to care for. Most importantly, after use wash it with warm water, Pat dry, brush with oil and bake in the oven at 150 degrees for one hour. Lifetime unlimited. Disadvantages: heavy, can rust, it is impossible to store food.
Aluminum is cheap, weighs little, heats up quickly. However, the food in her stick, over time, the pan lose its original shape, and aluminum is afraid of acids and alkalis. If you do decide to buy an aluminum pan, make sure that her bottom was at least five millimeters. Then service life will be approximately five years.
Stainless steel retains color and taste of the food, does not react with food. Pan does not require special care, not afraid of scratches from knives and forks, rust. However, the food can quickly burn if not stirred. Best suited for extinguishing products, so experts advise to choose a pan with thick walls and bottom. If you have a ceramic glass surface, do not buy copper and aluminum pans, they leave on the surface of the spots, which is extremely difficult to get rid of.
SEE ALSO
Guide to the kitchen and cooking for "dummies"
Teflon is resistant to alkalis and acids, lightweight, allows you to cook with virtually no oil, but is dangerous for him sharp and hard objects, they scratch and ruin the surface. Minus: the small life – three years and is subject to all rules of operation.
Ceramics (polymer nanocomposite) are durable, environmentally friendly, not afraid of sharp objects, you can cook without oil. However, there are also disadvantages: eliminates cooking on induction cooktops, can not tolerate extreme temperatures. Do not wash in the dishwasher.
Titan is similar to cast iron, but they are lighter in weight, heats quickly and evenly, durable, does not rust and is not deformed, the service life of 25 years, one snag – the price. Is this fryer is expensive, so not everyone can afford.
Comments
comments