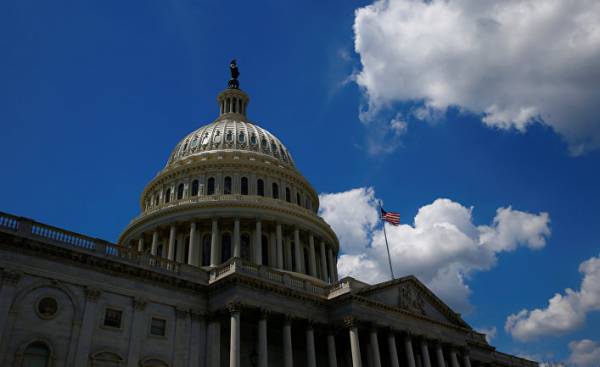 President trump signed approved by the U.S. Congress of a bill on new sanctions against Russia, Iran and North Korea, making this, despite the fact that he "has serious flaws" in the name of "national unity". And now the "law on the fight against America's enemies with the help of sanctions" turns into a true "global trade war" in the triangle USA — EU — Russia. According to Russian officials, denying the validity of the new sanctions, if the US thought that they can bend Russia to change its policy, it was wrong. And the Prime Minister of Russia, Medvedev said that with the introduction of new sanctions of hope for improving Russian-American relations are no more, and by this step, the United States announced Russia's full-fledged trade war. The law takes aim at such key sectors of the Russian economy, like railroads, shipping, and metallurgy.
Also introduced restrictions on companies that cooperate with Russian oil companies. After trump signed the bill, the President of the European Commission Jean-Claude Juncker (Jean-Claude Juncker) said that, faced with the likelihood that companies involved in oil and gas projects of Russia, from the following countries — EU members like Germany, France, Netherlands, Austria, will suffer, the EU is ready to defend its economic interests before the United States and to give an adequate response. It becomes clear that the situation at the axis US — EU — Russia may become more strained. And the UK expressed the intention to pursue a more active policy in the Asia-Pacific front, along with new partners. Obviously, the global energy game escalates, and the United States aims to significantly undermine the cooperation between Russia and the EU in energy-related fields. All of these developments make Turkey even more indispensable country from the point of view of energy security of the EU. Therefore, the EU needs to create more long-term "partnership strategy" with Turkey as a crossroads, where the confluence of oil and natural gas in the Eastern Mediterranean, the Middle East, the Turkic republics.
Ironically, Juncker in his statement yesterday said that Turkey is an important neighbour of the EU, and the negotiations between Turkey and the EU on accession to the Union should continue. And our energy Minister Albayrak (Albayrak) underlined that the victory of the German company Siemens in yesterday's giant tender for the construction of wind power plants — an important signal to the region and the world. The Minister also expressed a sense of pride in the fact that, as shown by the tender, Turkey is one of the safest investment countries in the region and the world. Energy moves Turkey will strengthen our position in the international arena.
Comments
comments