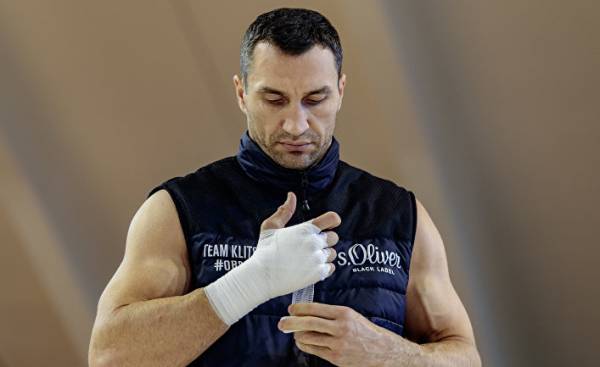 The resignation of Vladimir Klitschko — one of the biggest surprises in the world of Boxing lately. In fact, the return match against world champion Anthony Joshua (Anthony Joshua) seemed a foregone conclusion, all were only waiting for the consent of Klitschko in the rematch. But now 41-year-old heavyweight boxer has hung up his Boxing gloves on a hook. It was the right decision.
Bitter defeat from Joshua at London's Wembley stadium held it in recent months. It is with great pleasure I would show the Boxing world that he is still able, both physically and mentally, to achieve greater victories. However, apparently, at the end of April he felt that his time was up. And it took him another three months to accept this reality.
The fact that he admitted to it and thereby gave up not only by revenge, but the reward for victory, the size of which is estimated from 30 to 50 million dollars, is evidence of his character and his sporting value. In the history of Boxing, he will go down as one of the most successful heavyweights. And during his last bout with Joshua, he demonstrated one of the most spectacular battles of recent years.
Now, his only family, foundations and business
The resignation of Klitschko is both a renunciation of greed. Because it happens at a time when according to the custom sports business is accepted under the end of a career once again to fill their pockets. Whether it's in football, where the financial old age is ensured by more or less successful performances in China, or in Boxing, where, in fact, already retired world champion Floyd maywether Jr. (Floyd Mayweather Jr.) soon will perform in a spectacular battle with one of the Irish Amateur boxers. This glory as a fighter worried about his less than $ 200 million, which will bring him this unequal duel.
Klitschko did not succumb to the temptation of such business. For that alone he deserves great respect. Now he can take care of his family, their funds and their firms. His life after sport promises to be at least as glorious as it ever was his career as a boxer.
Comments
comments