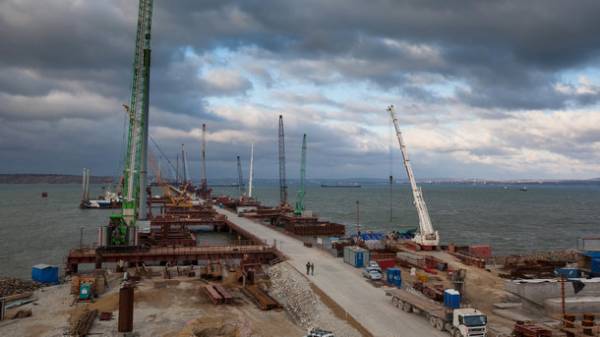 The Minister of justice Pavel Petrenko said that prospects in the construction of the Kerch bridge is not due to anti-Russian sanctions. He said this in an interview with "Obozrevatel".
He noted that all those involved in the construction of the Kerch bridge, will fall under international sanctions, therefore, the Western companies do not help with construction, and Russia itself can not cope.
SEE ALSO
The storm destroyed part of the bridge of the occupants in Crimea
"No self-respecting international company, even a bolt or nut will not put there because she runs the risk of losing your business in the EU, USA, Japan – the countries which joined sanctions against Russia regarding the Crimea. These sanctions also prohibit companies to supply any equipment. We see what happened with Siemens. That is, in my opinion, the prospects for this project in fact," – said Petrenko.
"Russia can't build and smaller-scale infrastructure. Know that after the Olympics in Sochi have already begun to crumble the entire stadium. Therefore, I think the best tool in this situation – sanctions against companies, which have been so short-sighted to join this project", – the Minister added.
As reported, Ukraine is preparing a lawsuit against Russia in connection with the loss of the ports of the Kerch bridge.
Bridge length of 19 km will become the longest in Russia. Opening of traffic should take place by December 2018, and the movement of trains by 2019-mu. The total project cost is around 228 billion rubles (nearly 4 billion dollars). In December 2016, the senior researcher of the Institute of water problems, Russian Academy of Sciences Yuri Medovar said that the construction of a bridge across the Kerch Strait is being without the project, and the bridge will collapse, even if it will be possible to build.
Comments
comments