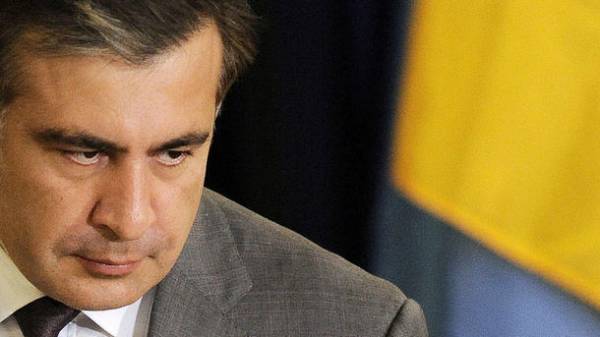 In the United States consider reasonable denationalization of the Ukrainian-Georgian politician Mikheil Saakashvili has criticized his position against the President of Ukraine. This is stated in the article, Fox News reports "Commander in chief".
Americans are reminded that Saakashvili was in Ukrainian politics thanks to the President of Ukraine Petro Poroshenko, but later it became to resist him.
"Saakashvili in response to the goodwill of Poroshenko resigned from the post in 2016 and began carelessly and wrongly accused of corruption, Poroshenko personally, and the government. After the loss of Ukrainian citizenship, Saakashvili is trying to strike Poroshenko and inflict the most damage. In particular, the former head of Odessa region declared that the approval of the President of the United States Donald trump regarding the intervention of Ukraine in the presidential elections in 2016 is correct. Saakashvili may think that his statements are an attempt of revenge Poroshenko, but in fact, he takes revenge on Ukraine, a country he confesses his love. His statements could threaten the support that the US provides Ukraine," writes Fox News, which is considered the favorite media of the President of Donald trump.
SEE ALSO
Trump demanded to investigate the intervention of Ukraine in the elections in the United States
At the same time, the article notes that the deprivation of citizenship, Saakashvili confirmed even by his allies.
"If the cancellation of citizenship Saakashvili is groundless, as he says, why the decision was confirmed by the National anti-corruption Bureau of Ukraine? It is worth noting that the NAB is headed by Sytnyk, as well as working there Gizo Uglava. They are both allies of Saakashvili. Or Saakashvili believes that his close partners are puppets in the game of the oligarchs? His allegations are meaningless", – emphasized in the article.
We will remind, on July 26 it became known from media reports that Mikheil Saakashvili was deprived of Ukrainian citizenship. This information also was confirmed by the State migration service.
The politician, speaking about his plans for the future in the case of deprivation of his nationality, said that he intends to stay in Kiev. "I'll sit here in Kiev, no problem. I will sit in Kiev without citizenship. I'll just go on the Maidan. I now live in the neighborhood. Take a look, maybe something small here buy. We managed to sell one of the apartments in Georgia."
Comments
comments