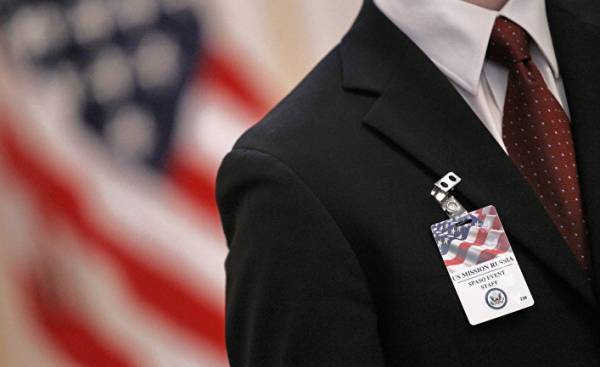 The measures that Moscow takes in response to new U.S. sanctions, are not comparable with those constraints which can cause potential damage to the interests of the Russian energy sector in Europe. Meanwhile, they open a new Chapter in the political dispute between the government of Vladimir Putin and the West.
From an economic point of view, Russia had little to do.
The main headache here goes to the European Union, which is concerned with the threat of sanctions hanging over European companies because they do business with Russian oil and gas giants — business of vital importance for the energy security of the continent.
The reduction in the number of employees of the state Department in Russia fits into another controversy.
Since the end of the cold war, the United States funded and supported NGOs and other organizations in Russia and the countries of the former Soviet sphere of influence.
Although the Americans deny it, they actively participated in the "color revolutions" that in 2000 years of toppled Pro-Moscow regimes in such countries as Georgia and Ukraine. The counter-revolution that happened in Ukraine in 2014, led to the civil war; today it is a frozen conflict.
In Russia, each time more stringent laws restrict the work of foreign NGOs. For those who are in opposition to Putin, this was just another manifestation of authoritarianism: the organization has never had a significant impact on Russian politics, in the media, they raised inconvenient to the Kremlin issues such as human rights or freedom of speech.
One Russian analyst working in such an organization, which still operates in the country, recently told the Folha that it is periodically visited by security personnel.
Reducing American personnel is less than half compared to the current number of employees, and thereby equating it with the number of the Embassy of the Kremlin in the United States, Putin gave a possible response to sanctions.
These radical measures will require reorganization, which effectively limit the operational capabilities of American diplomats in the country, because to fire only one of the Russian embassies and consulates impossible — unless, of course, diplomats do not start to drive a car and work secretaries.
In addition to the political game, the goal is to reduce the scale of espionage activities, because in the current worldwide tradition, the agents work under the guise of diplomacy.
Comments
comments