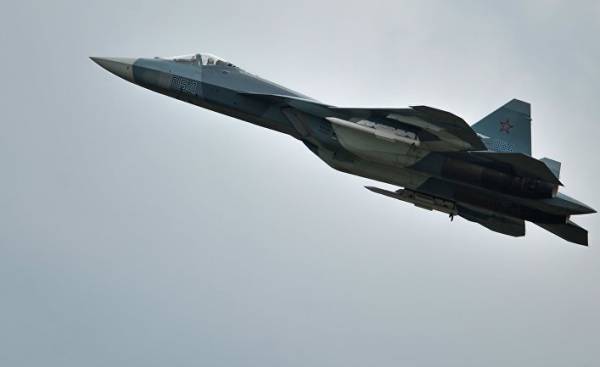 Russian fighter stealth fifth-generation Sukhoi T-50 PAK FA have now received the designation su-57, since nearing the start of its production.
Initially, Moscow will buy a total of 12 su-57, which are expected to be delivered in 2019. In fact, Russian air forces are unlikely to acquire a total of more than 60 su-57 original version.
"In 2019 we need to start the delivery of the first batch of fighter (T-50)," — said in an interview with TASS the head of the United aircraft Corporation Yury Slyusar.
One of the reasons for the lack of great enthusiasm in the Russian concerning the purchase of the initial version of the su-57 is that the fighter with the stealth technology currently has two temporary bypass turbojet engines with afterburner AL-41F1 "Saturn", the capacity of each of them (afterburner) is 15,000 kgs. These are the same engines fitted to the existing su-35S (Flanker-E), and they have installed many of those systems that will be used on the su-57.
And, indeed, with the exception of stealth, the new su-35 Flanker has many of the same features as the new fighter of the fifth generation. Thus, Russian does not want to spend money on aircraft, which, in their view, offers only a slight increase in performance.
"According to military pilots, the su-35 4+ generation shows a very good performance," said Deputy defense Minister Yuri Borisov in an interview with Russian journalists.
The Russians intend to purchase more su-57 second, improved version will have better engine and other improved characteristics. The Russians continue to develop on NPO "Saturn" the next generation of engines for fighter T-50 — we are talking about the engine "Type 30". Yet, little is known about the engines, referred to as the "Type 30", but this new powerplant is expected to have nonafterburning thrust of 11,000 kgf afterburning thrust of 18,000 kg.
As expected, the first flight of the PAK FA fighter jet with new engines will be produced in the fourth quarter of 2017, and to use, they will be ready in 2025. Russian air force may buy up to 160 fighters next version of su-57.
Meanwhile, the Russians are considering the development of a new light fighter of the fifth generation that will be created in the framework of the state program of armaments to 2025. RAC "MiG" is, apparently, working on a project for this program, but, as is always the case with such developments, the message should be treated with considerable skepticism. The Russian defense and aerospace industries — as well as her American counterparts — like to promote a new conceptual development in the hope that the government will purchase their products. New lightweight fighter may be just part of such efforts.
Comments
comments