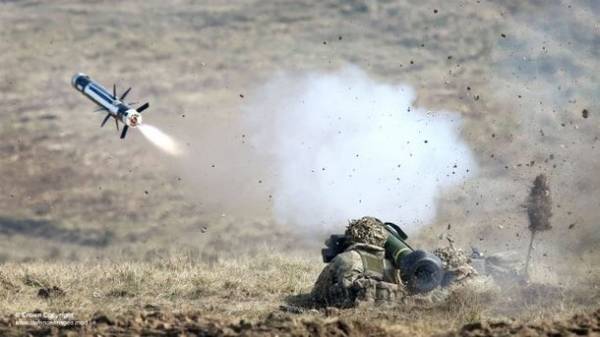 To confront Russia on the battlefield, the Ukrainian military must be from the US, about 2-2,5 thousand anti-tank missile systems Javelin. This was told "Apostrophe" military expert Alexey arestovich.
According to him, one platoon (20-30 people) require three anti-tank complex.
"If we talk about the necessary number of such complexes, can be calculated from the Soviet organizational structure. For example, in the mechanized division BMP on the state of the platoon had three-tank – for each BMP was standing ATGM. If divisions in the APC, the company was a separate section of the ATRA – 4-6 complexes. Therefore, in every platoon, one or two of the complex. We need approximately the same order: two armed and the third is a spare. On the frontline platoon holding about 600 metres of defense. The front line we have 500 kilometers – about 500 worth of platoon, although in reality less: there are lines where it is impossible to attack tanks – there are rivers, lakes. Assuming the number – three sets in the platoon, we need 1.5 thousand Javelin. Still need more teaching materials for training centers, and logistics – only 2-2,5 thousand complexes. It would radically change the course of the conflict", – said arestovich.
SEE ALSO
A military expert said, the APU burned Russian tanks without lethal weapons USA
He also noted that modern Russian tank costs around five million dollars, and to shoot him from the Javelin can ordinary Ukrainian soldiers.
"Previously, for Russia to attack the Ukrainian positions at a cost of two dead and a few captured rifles, and now it will cost six corpses and the stricken object of armored vehicles. Even for such a crazy country like Russia, which is ready to spend on the war a lot of resources, the loss of several armored vehicles on a monthly basis – it is very expensive. During the six months they accumulate large losses and be forced to change strategy. It very much will force Russia to think" – said the military expert.
As reported in The Wall Street Journal, the Pentagon and the US state Department has developed a plan supplies to Ukraine anti-tank missiles and other weapons, is expected to be approved by the White house.
Comments
comments