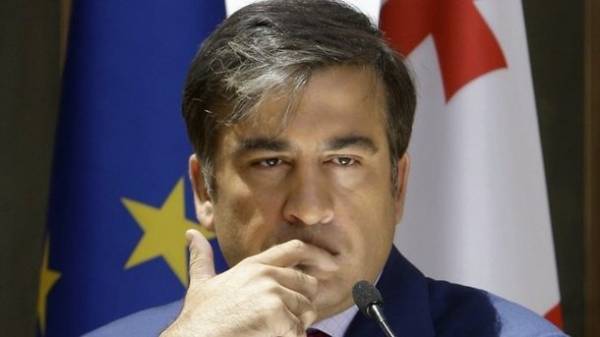 The state migration service of Ukraine should conduct an internal review for possible violations in the registration documents of the ex-President of Georgia, former head of the Odessa regional state administration Mikhail Saakashvili to receive Ukrainian citizenship. This was stated by MP from the faction "Block of Petro Poroshenko" Vladimir Aryev.
"I believe that the State migration service of Ukraine, which prepares documents for the presidential Commission on citizenship, needs to conduct an internal review. If in the near future will not be the results of internal audit, if I know that will not check, I will send then an appeal to such a test spend and let me know about her results," he said.
The politician noted that the questionnaire, a copy of which he had previously published, was in fact Saakashvili for obtaining citizenship of Ukraine. He also added that cannot say whether the signature on this document Saakashvili.
Ryan admitted that the former head of the Odessa regional state administration could entrust to third parties the execution of relevant documents and personally do not put signature.
"Due to the negligence in handling the documents could take place that he (Saakashvili – Ed.) dropped this design on others and not even really doing it. And migration service … maybe, somewhere turned a blind eye to some of the nuances of personal giving by the person that appeals to the government concerning the acquisition of citizenship. Again, this is just the information I have that has no clear evidence" – said the Ariev.
SEE ALSO
Saakashvili may obtain Lithuanian citizenship
"In all circumstances it is necessary to check, because obviously somewhere there was some negligence of those who had to carry out this procedure. The same procedure holds the President personally, as you know," he added.
As reported, on July 26, 2017, it became known that President of Ukraine Petro Poroshenko issued a decree that stripped the citizenship of Ukraine. In the administration of the President of Ukraine said that the cessation of citizenship of Ukraine, Saakashvili is due to submitted false information at registration of Ukrainian citizenship.
July 29, Saakashvili said that he intends to appeal to the administrative court in connection with the deprivation of his citizenship of Ukraine, and then to the European court of human rights.
Aryev has published a photocopy of the application form (with signature) to obtain Ukrainian citizenship Saakashvili. In his turn Mikhail Saakashvili stated that it was not his signature.
Comments
comments