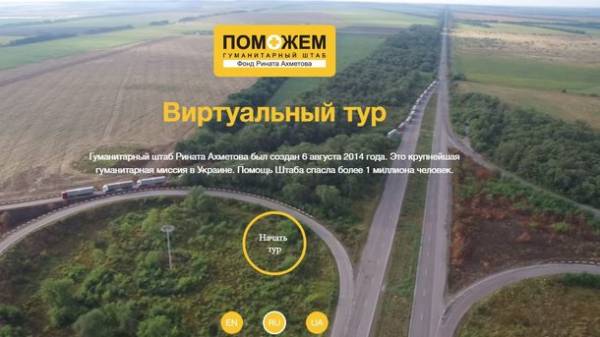 The humanitarian centre has launched a virtual tour on their work. Now anyone can not only learn how to operate the most ambitious program of aid to the population in the East of Ukraine, but also to feel as a volunteer. It can be done with one keystroke, mouse – on the website of the Humanitarian centre: fdu.org.ua/3dtour.
"Created a virtual tour is a vivid and dynamic demonstration of how the Staff worked with the outbreak of hostilities, – says Irina Temerko, head of projects and programs of the Rinat Akhmetov Humanitarian centre. – This information platform we have created for those who are not indifferent to the tragedy in the Donbas. Every visitor can hold a little trip inside to see our work. The virtual tour shows the full cycle of providing humanitarian aid for civilians – from the formation and movement of humanitarian convoys to the conveyor line from the picking of food packages before issuing its peaceful frontline areas".
Four main locations are made with the effect of maximum immersion and give the opportunity to see the 360⁰ – to visit the office in Kiev or logistics center in Mariupol, along with a mobile team of volunteers to give aid to the frontline village, and visit on the now locked "Donbass Arena".
"One of the main principles of our work – transparency and openness. Thanks to the virtual tour, every person will be able to feel the scale of the Humanitarian headquarters. Interactive elements allow for more detail to get acquainted with our activities, – says Alexander Vishnyakov, Director of the Rinat Akhmetov Humanitarian centre. – During its work, the Headquarters has issued more than 11 thousand 820 food packages and saved over one million lives. How is that possible? This can be found by visiting our virtual tour".
Comments
comments