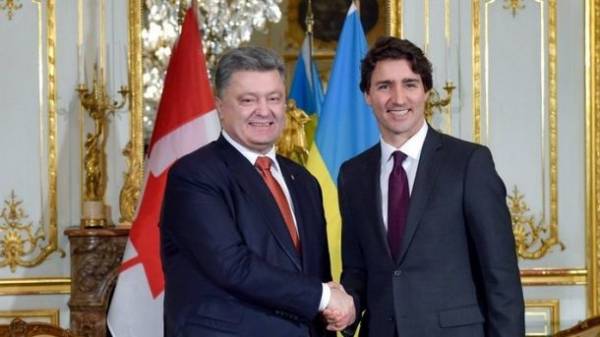 The agreement on free trade area (FTA) between Ukraine and Canada policy called ambitious. Today, August 1 Canada immediately opens up for Ukraine 98% of their market. Without tariffs Ukrainian producers will be able to export to Canada processed agricultural products, goods food, textile, chemical, petroleum and machinery industries. However, some exports will be duty free only within the established quotas. In particular, it concerns agricultural products – wheat, barley, eggs, beef, pork, writes Deutsche Welle.
In turn, Ukraine undertook to abolish customs tariffs on 72% of canadian goods, particularly fish and seafood, grains, peanuts, juices, mineral water. On the part of the goods from Canada duties are lifted simultaneously, and using transitional periods in the three-and-a-half and seven years. Sugar the Ukrainian side was excluded from the free trade regime, while imports of frozen pork, pork products and canadian bacon set quotas.
"Free trade with Canada is an absolute positive for Ukraine, which the loss of the Russian market faces the challenge of diversifying markets for its exports," – said in an interview the Director of the canadian-Ukrainian project support of trade and investment (CUTIS) in Ukraine, Igor Sangarovskaya .
Who will win?
The Ministry of economic development and trade of Ukraine (MEDT) predict that in the short term, benefit from the FTA with Canada will receive the Ukrainian manufacturers of sunflower oil, confectionery, alcoholic beverages and beer, juices, clothing, ceramics, Ukrainian metallurgical and chemical plants.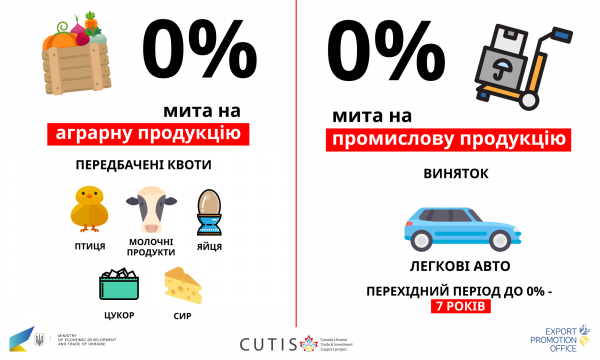 However, officials felt that the abolition of Ukrainian duties on canadian products will lead to losses for the state budget by $ 1.2 million in the first year of the agreement, however, it is expected that in the future it kompensiruet due to the increase in foreign investment. According to government forecasts, thanks to trade liberalization with Canada Ukraine could receive a 3.5% increase in exports. The Ukrainian government hope that through the free trade zone in Ukraine every year to create up to 600 new jobs.
Trade liberalization with Canada will bring Ukraine a 3.5% increase in the export
The expert of the Center for economic research and policy consulting Veronika Movchan, advises not to have high hopes for a free trade zone with Canada.
"This agreement is symbolic. Partners have socio-cultural affection to each other, because in Canada is a big Ukrainian Diaspora. But from the point of view of economy, the FTA will be very little impact – especially in the coming years. This is because Ukraine and Canada now have a very meager volume of trade," said Movchan.
According to her, the benefits of trade liberalization can effectively only those who are already exporting Ukrainian products to Canada, has established contacts, signed contracts, valid licenses and certificates. "They already carry the goods, and then they also a pleasant surprise in the form of cancellation fees," – said the expert.
The share of Canada in the foreign trade turnover of Ukraine amounted to less than one percent
According to the Ministry, in 2016 the volume of trade in goods and services between Ukraine and Canada amounted to 372 million dollars. The share of Canada in the foreign trade turnover of Ukraine amounted to less than one percent, including 0.08 percent was exported to Canada, and 0.55 per cent of imports.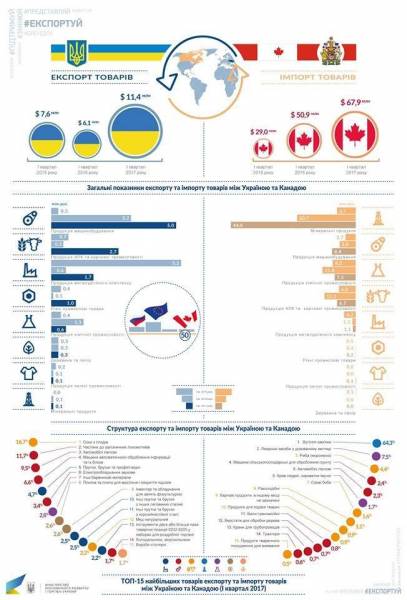 Last year most of Ukrainian manufacturers exported to Canada parts for rolling stock, tanning extracts, ferrous metals, wood, toys, dairy products. Canadian business imported coal to Ukraine, fish, pharmaceutical products, equipment.
In search of its own niche
According to the research project CUTIS, for small and medium business in Ukraine the most promising in the canadian market there are five main sectors:
It products;
clothes;
shoes;
furniture;
chocolate and confectionery.
In these industries the demand for products of Ukrainian origin. "Canada is dependent on imports of a country that annually imports goods worth more than 420 billion dollars. This is 12 thousand dollars per canadian. Ukrainian companies need to explore the market and to find niches where they can compete. The combination of high quality and reasonable prices may become a trump card of Ukrainian business in Canada" – suggests Igor Sangarovskaya.
Kyiv expert on export issues Oleg Miroshnichenko also advises the Ukrainian producers to find their niche to succeed in the canadian market.
"To succeed in the canadian market needs a special product. For example, regular pasta is unlikely to interest the consumer, but organic or vegan pasta may be interested in. The same applies to craft beer," – said the expert.
There are a number of certification barriers for Ukrainian goods
But only the abolition of customs barriers to the revival of trade between Ukraine and Canada is not enough, the coordinator of export support Centre at the Ukrainian Union of Industrialists and entrepreneurs Denis Krasnikov.
"There are a number of certification barriers for Ukrainian goods. For example, the chocolate should be certified to prepare a special label with the requirements of the canadian market. Restrict the exporting and licensing of investment activities abroad for the establishment of representative offices of Ukrainian companies in Canada," said Krasnikov.
SEE ALSO
Canada called the priority of free trade with Ukraine
Experts suggest that to significantly ease trade between Ukraine and Canada FTA Canada-EU. After its entry into force, in mid-September, between the three partners formed a kind of triangle of free trade. Standards of quality and safety of goods, their labeling, packaging, which requires Ukraine in the framework of the current FTA European Union can be recognized in Canada within the framework of the FTA, Canada and the EU. And it would partially lift access barriers in Ukrainian exports to the canadian market.
Comments
comments