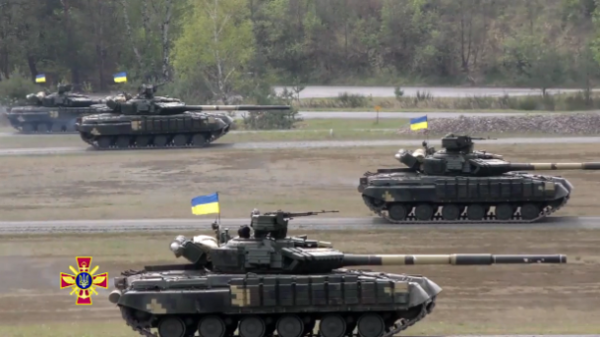 The American army thanks to the experience of the Ukrainian military got a lot more information about Russian army and its capabilities. About it in interview "Censor.NO," said the Commander of the U.S. army in Europe, Lieutenant General Ben Hodges.
According to him, the Americans learn a lot about the Russian army from the lips of Ukrainian military who are at war with her and have an experience of confrontation.
"In Yavorov (Lviv region. – Ed.) we have approximately 250-300 American soldier-instructors. Ukraine – the only place where you are shooting Russian artillery, Russian artillery shells where exploration is conducted by the Russian drones. So what can we learn about Russia's potential from conversations with Ukrainian soldiers. Therefore, the Ukrainian experience of the war against the Russians helps the us army. We have already made changes to the program of combat training and exercises, based on estimates received from the APU. We can see that Ukraine improves counterbattery, artillery, their actions in a very complex environment of cyber and electronic war waged in the Donbass Russian army. We need this experience really helps," said Hodges.
SEE ALSO
Us General: US use the experience of the Ukrainian military
He noted that the Ukrainian tankers are the main "stars" at the international competition of NATO.
"I also want to note that we can organize joint exercises with Ukrainian soldiers, who conducted the exercises in Bulgaria. And in may, the Ukrainian tanks arrived at the Grafenwoehr to participate in international tank competition. So imagine, honestly, all the attention was focused during a training exercise at the Ukrainian edge. Participated the Germans, Austrians, Americans, French, poles and, apparently, the Slovenians, and they all wanted to talk to the Ukrainians. Because Ukrainians are the only ones who fought against the Russian tanks. And for that NATO Ukrainian soldiers have great respect," – said the American General.
As reported, in may, Ukrainian tanks took part in the competition Strong Europe Tank Challenge 2017, which showed the class and driving. The Ministry of defence of Ukraine noted that Ukrainians pleasantly surprised by NATO representatives.
Comments
comments