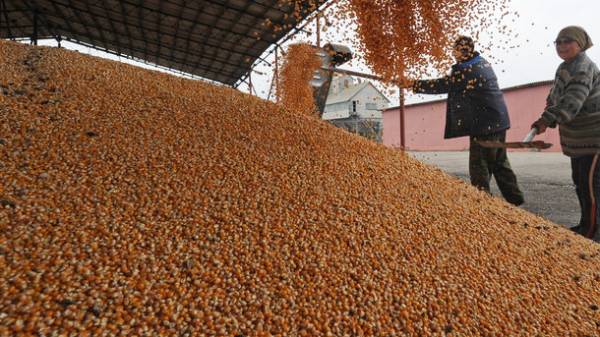 By the end of 2016/2017 marketing year Ukraine has established a new absolute record for grain exports of 43.9 million tons. This was reported by the press service of the Institute of agricultural Economics.
The supply of corn was 20.7 mln tonnes, wheat – 17.5 million tons, barley – 5.4 million tons.
The largest buyers of Ukrainian grain in the first half of 2017 was still countries of Africa, Asia and Europe. Leading position in the ranking of largest importers of Ukrainian grain for several years in a row holds Egypt, whose share in total exports in January-June this year amounted to 17.5%
The largest buyers grown in Ukraine oilseeds in the first half were Turkey (24,0%), Iran (16.9%), Egypt (13.3%) and Italy (5.6 percent). The combined share of these countries accounted for about 60% of the income from the sale of these crops.
SEE ALSO
Drought in the Central regions of Ukraine will hit the yield of grain – experts
The dominant buyer of vegetable oils of Ukrainian origin has traditionally been India. In January-June, its share in the national exports of this product amounted to 32.4%. Other major importing countries are significantly lagging behind from it: Spain and 9.4%, China 9.1%, the Netherlands and 7.4%, Italy – by 5.4%. Of these countries, Ukrainian exporters get more than 63% of revenues for products in this group.
We will remind, Ukraine's FTA with Canada came into force today, August 1. Canada opens for Ukraine 98% of their market. Without tariffs Ukrainian producers will be able to export to Canada processed agricultural products, goods food, textile, chemical, petroleum and machinery industries. Exports of wheat, barley, eggs, beef, pork will be duty-free only within the established quotas.
Ukraine undertook to abolish customs tariffs on 72% of canadian goods, particularly fish and seafood, grains, peanuts, juices, mineral water. On the part of the goods from Canada duties are canceled simultaneously, and using transitional periods in the three-and-a-half and seven years.
Comments
comments