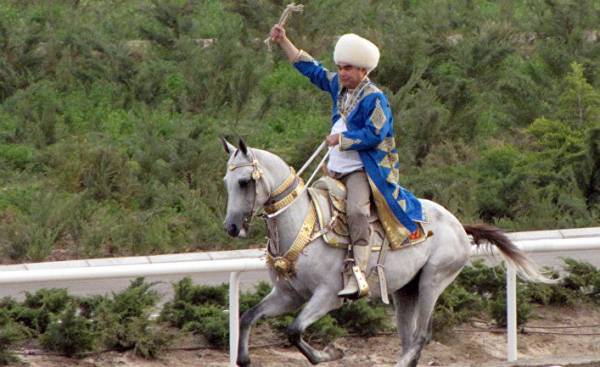 The economy of Turkmenistan continues to roll on an inclined plane, and the President Gurbanguly Berdimuhamedov again decided to "entertain" the suffering population of his singing and mass forcible exercising.
State television on 28 July reported on the regular visit of Gurbanguly Berdymukhamedov at the Caspian resort of Avaza, where he started the day with a group charging in the company of Cabinet Ministers and the speaker of Parliament. First, the officials lined up like school children, and watched carefully as the head of state exercises, and then followed his example and even played volleyball.
Then all went to the beach in the official presidential residence, and Berdymukhammedov himself with three grandchildren took up "verses for a new song called "I remember"".
"Within the creative process the President showed to each of his grandchildren how to play the melody with various musical instruments. Then Berdimuhamedov performed a new song with my grandchildren who have demonstrated zeal and diligence in the study of musical arts", — said the speaker.
Then the grandchildren got for various musical instruments. One played the piano and the rest on the mixer and electric drum set. Berdymukhammedov himself, known for its filed as "Arcadia", a synthesizer trying to reproduce the melody that the listener simply could call rambling and pointless noise. Then he indulged in "magic" moment and cocked his head, began to dance wildly.
"Embodying the love reflected in the beauty of this world, this song is born amazing talent of Arcadia, will soon be presented to the people as a wonderful gift from the leader of the Turkmen nation" — wrote the newspaper "Neutral Turkmenistan" on 28 July, reaching new heights of pompous hollow rhetoric in his praise of the President.
But cooked Berdimuhamedov to the people in the "entertainment" is not over.
On Saturday 29 July, he led a mass bike ride in honor of the upcoming 50 days of opening in Ashkhabad V Asian indoor games and martial arts. From 7:00 to 19:00 traffic across the country was limited and was allowed to move only by Bicycle. The heads of ministries and diplomatic missions, of course, also had to take part in the exercises.
Comments
comments