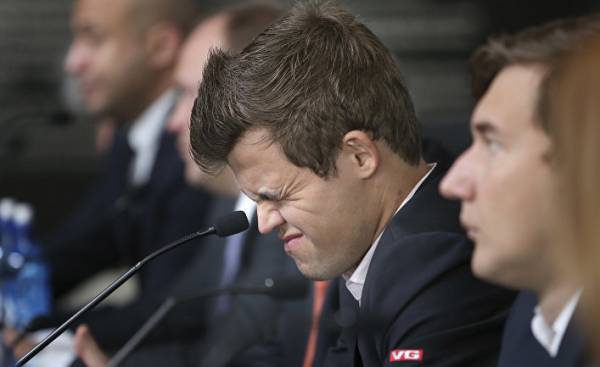 Russian believes that their relationship has changed.
The duel for the title of world chess champion between Magnus Carlsen and Sergey Karjakin in November last year, was that dramatic, even. Dramatic enough and outside of the chessboard.
The sensation was and what happened after the eighth game, which was won by Karjakin. Magnus Carlsen sat and waited in a row in the hall for press conferences, but then his patience came to an end. Carlsen ran out of the room — then had to pay a fine of 250 thousand crowns.
Karjakin hastened to declare that the reaction to Carlsen, he understood. But in an extensive interview to the Russian newspaper "Sport-Express" Karjakin said that this case had a negative impact on relations with Carlsen.
"These things do not contribute to friendship"
Carlsen and Karjakin were two of the most famous prodigies in the world of chess about 15 years ago. So the battle for the chess crown in new York is the culmination of years of rivalry. But it was also a duel between friends.
In 2011, for example, Karjakin Carlsen was invited to walk around the city after the chess tournament in Moscow. They, like, bowling together went.
"In some sense, we are friends," said Karjakin in an interview with Aftenposten in 2015.
Now, however, the relationship has changed, says Karyakin.
"We did not quarrel, but still near there. In recent tournaments conversations are reduced to the analysis just played games. And even then not always," he told the star chess "Sport-Express".
"The match in new York was heavy, plus the sudden flight of Magnus with a press conference. Such things do not contribute to friendship. Besides Carlsen knows that my goal is to eventually defeat him and return the crown to Russia".
The next day, after Carlsen fled from the press conference, his Manager Espen Agdestein (Espen Agdestein) explained the incident as follows:
"No. Everyone knows that it was not very good. We, those who are close to them, understand how important this is to him. It focuses on a chess game, he lives in it, nothing else at this point, for it does not exist."
About the rumors about Kasparov
In an interview with Karjakin also asked about the legendary chess player Garry Kasparov, who returns to the big chess.
Russian Kasparov — the last player of the Soviet chess school, which had a dominant position in the world elite. However, Kasparov long ago distanced from the Russian chess Federation and of Vladimir Putin's regime is much different from Karjakin.
Before the match for the world title in new York there were rumors about how Kasparov will be helping Carlsen in preparation. However, Karjakin still not sure whether his compatriot in the opposing team.
"This is anecdotal. Magnus said that he was considering the possibility of bringing Kasparov in their team, but what happened next is unknown. Carlsen did not say who was part of his staff," — said Karjakin.
About the identity Carlsen
But there is no doubt that Kasparov previously played as coach Carlsen at two stages of his career. Karjakin has a very clear idea of why this cooperation, in the end, stopped.
"Do not get along. Kasparov kind of leader, used to impose their will. Carlsen is not one of those who will obey unquestioningly. He keeps his own point of view," says Karyakin.
Karjakin will soon have to compete with Carlsen and Kasparov. August 2 in St. Louis begins the sinquefield Cup, the list of participants, and Carlsen, and Karjakin.
Immediately after the tournament there will also be tournaments blitz and rapid chess. All the chess world in looking forward to what Kasparov.
Comments
comments