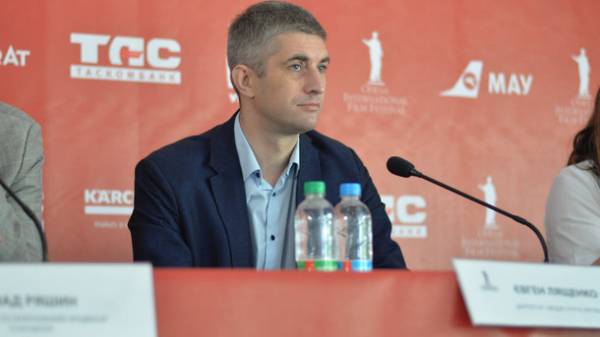 In the eighth Odessa international film festival will be held second session "Series". The curator of the section this year was the festival series Mania Series, partners were "Media Group Ukraine" and "Ukraine"TV channel.
In festival centre "Rodina" a press conference was held in the framework of serial sections. Director of "Media Group Ukraine" Yevhen Lyashchenko said that with the withdrawal of the Russian content the television industry experienced difficult times – came under the ban of the thousands of hours it serial content.
"Series around the world are experiencing a surge in audience interest and production boom. Series on equal compete with feature films, both for the viewer and for the best Directors, actors, screenwriters. Today the series for us is not only a favorite product of our viewers, not only hundreds of hours of their own production, but also a key cultural form of our time. The series is a new drama, new movies and even new novel. They naturally fit into the rhythm of modern life, allow to rest, serve as a topic of conversation, I enjoy it. A modern viewer wants to watch a long story. And we, channels and production, trying to meet expectations and even anticipate them. We, the "Media Group Ukraine", also remove the series themselves, or by our order, which is waiting for the Ukrainian audience. And we, of course, we are proud that Media Group Ukraine is a leader of the domestic serial production", – says Yevgen Lyaschenko.
"Channel "Ukraine" broadcasts a TV series, which gather an audience of millions. And that channel is the leader in TV viewing – in the first half of the year, Ukraine holds the first place in both audiences 18+ and 18-54, "50 thousand+", significant serial content. It is no secret that with the departure of Russian content is the television industry experienced difficult times. The ban came thousands of hours it serial content. The audience was left literally on a starvation diet. And there was only one option – to produce themselves and find partners who can produce for our order a decent product. And we did it. In General, the TOP-6 channels total duration of the series decreased from 18.2 thousand hours of airtime in 2014 to 11.5 million hours in 2016. So quickly shift from procurement of production could very few. So we have something to be proud of. For 2017 we plan to produce no less than 453 hours of TV series, including Prime – at least 293 hours, Ukrainian-speaking – at least 300 hours. Today we have in production is of the order of thirty serial titles: the series-investigation with an intriguing love story "White black", a melodramatic TV series "City of love", "the Second life of eve", "Choosing fate", a Ukrainian romance "Obruchka s rubem". TV shows liked by the audience on the medical theme – "Dr. 3", "Window of life", the Ukrainian-language medical drama the third season of "Chergui likar" and a new series about a female heart surgeon "Likar Kovalchuk", 4 serial of Ukrainian-Polish romantic Comedy "Sveta", 4-series Comedy melodrama "Desperate househusband", etc. not long ago Prime TV channel "Ukraine" meant only zakupne product, now in this most crucial slot we put the series of own production. We learned to shoot the telenovela, scripted docudrama and reality TV. To hold the interest of our audience we are shooting a TV series with almost all the best Ukrainian film Studio: Star Media, ABC Film, "Ukrainian production Studio", FILM.UA Mamas, Pannoktikum. And today, along with the work of European colleagues, we will present a detective series, a joint production company Star Media – "Experts" of the Ukrainian Director Oleg Maslennikov", – said the Director of "Media Group Ukraine".
Recall channel "Ukraine", General TV partner of the Odessa international film Festival for 6 years.
Comments
comments