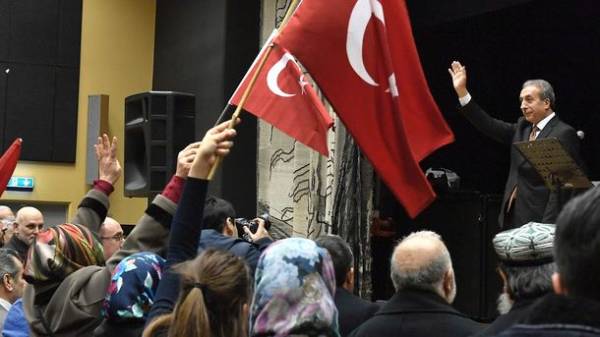 Turkey to suspend diplomatic contacts at a high level with the Netherlands due to the ongoing diplomatic conflict.
As informs "bi-Bi-si", this was stated by Turkish Vice-Premier Numan Kurtulmus. He also said on the possible revision of the agreement with the EU on migration.
"We are doing exactly the same thing I do and they are in relation to us. We will not allow flights with diplomats from the Netherlands to land in Turkey, or to use our airspace. Who created this crisis are responsible for resolving it," said Kurtulmus.
On Saturday, Dutch authorities denied permission to two Turkish Ministers, the first Minister of foreign Affairs of Turkey Mevlut Cavusoglu, and later Minister for family Affairs and social policies of Turkey, Fatima Betul the SAI Kaye – act in Rotterdam in front of the Turkish citizens living in the Netherlands.
The Dutch authorities did not allow the Chairman to enter the country, and Fatima Betul saillant Kaye was escorted to the German border.
Turkish officials were going to convince their fellow citizens to support changes in the Constitution of Turkey, which significantly expands the powers of the President. A referendum on the issue scheduled for April 16.
Earlier, the authorities of Austria, Germany and Switzerland also banned the statements of the Turkish officials, citing possible security issues.
After President Recep Tayyip Erdogan has compared the Netherlands with the "banana Republic", and demanded from international organizations to impose on that country the sanctions and accused the West of Islamophobia. "I said that Nazism is gone, but I was wrong, Nazism is alive in the West," he said.
German Chancellor Angela Merkel called the remarks unacceptable and the Netherlands expressed "full support and solidarity".
The Prime Minister of the Netherlands mark Rutte also called the Erdogan's statements unacceptable. Foreign Minister of Germany, Sigmar Gabriel expressed the hope that Turkey "will come to life".
The Prime Minister of Denmark Lars løkke Rasmussen, has postponed a planned meeting with his Turkish counterpart Binali Yildirim, stating that democratic principles are in Turkey, under heavy pressure.
On Monday, the Netherlands warned their citizens about the need to exercise caution in terms of the tensions between the two countries.
Comments
comments