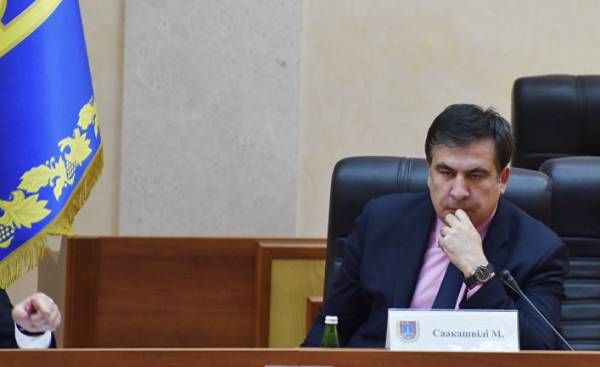 "Mikhail Saakashvili is a friend of mine since College days. I remember him as a strong-willed and determined person, and I have reason to trust him," — wrote in his Twitter the President of Ukraine Petro Poroshenko on may 30, 2014 — the day when the former President of Georgia has received from his hand a passport with the Trident.
Friendship and trust has stood the test of time and power. July 26, 2017, Poroshenko, a decree deprived Saakashvili Ukrainian citizenship. So the former Georgian reformer became a "world citizen" or a stateless person — a Georgian passport, ironically, Saakashvili has taken on the cause of obtaining Ukrainian citizenship.
For 2 years in Ukraine, Saakashvili fought with Yatsenyuk, built the road Odessa-Reni, campaigned for early elections in Chernigov for Berezenko, scandal Avakov, created a political party, led even his program on Ukrainian television and build far-reaching political plans.
Now the future of Saakashvili in Ukraine is uncertain. The decree on deprivation of citizenship caught him in the United States, where he is staying with his relatives, and back to Ukraine, Saakashvili can not let. The news caught the former President by surprise — the first official statement he made late in the night on Thursday. And on Friday agreed to talk with the correspondent of "Ukrainian truth".
Because of the seven-hour time difference, we talk in the evening on WhatsApp. Saakashvili exudes confidence and talks about the threats that come to him from Poroshenko, about what the President most of the time engaged in AP and how he's going to pass the border with Ukraine, "secret paths". For the entire conversation, Saakashvili never called the President of Ukraine named. He demonstrates in interviews all his resentment and irritation. In this state, a person expresses all that he boiling.
I had a two hour meeting with Poroshenko, it was two hours of threats and blackmail from his side

"The Ukrainian truth": please Tell us how you found out that you have been deprived of Ukrainian citizenship?
Mikheil Saakashvili: I learned from the "Ukrainian truth", in our time it was just morning. I usually in the morning, discover "the Truth" to see what happens at the front, how many victims — I still have to Georgia this habit. And I found now that as the victim was me. The first reaction from people was — we don't believe, but I once believed. For two reasons: because they typically use the radical faction. They have the same privileges because they were used Akhmetov to declare such things. Second, I remember — I had a two hour meeting with Poroshenko in March of this year in Malta. It was two hours of threats and blackmail on his part. Since then, I faced various troubles, I think it was his last warning.
— Can you tell us about these two hours of threats and blackmail? How did it happen?
— In Malta after he was next to me at the Congress of the European people's party, he did not like. Then, the next day, he made a Protocol (Protocol — approx. ed.) to transplant it. He suddenly offered to meet. We met and it was 2 hours. He told me that I have to stop, stop to criticize, as he said, to destabilize the Ukraine, to carry out Putin's plan… to which I laughed in his face. I told him that "Putin's plan" is what he's doing. Because he had established a strategic Alliance with Akhmetov holds in Parliament Homutynnik and other dealers, and agrees with them. I believe that this is "Putin's plan" is much more than what I do.
Then he said that if I rest, if, as he put it, become normal Ukrainian politician, "within", then in the next parliamentary elections, to be held at the usual time (he said he will not allow early elections), we will have our own faction in the Parliament, and, as he put it, his own little niche in Ukrainian politics. This time. Second — he said that if I try to shake the situation and seek early elections, then, firstly, he is ready to impose martial law. To which I told him that he had no such forces, what it seems to be agreed. Because he said that even if we do not introduce martial law, we will be taking individual action. And so ominously looked at me. Apparently, now he started with "individual measures".
— What has been a specific claim Poroshenko?
He said: why you did not criticize, for example, Timoshenko, why not concentrate on Avakov, as for me? I said that I criticize all the power, especially police, but after he became completely control the government, all responsibility lies on it. If Tymoshenko comes to power, it will be the object of interest, and now Ukraine the object of interest are the ones who make the decisions that affect their lives. That's about I put it…

Knowing the obsession of oligarch Ivanishvili me and knowing the reaction of Poroshenko on me, it is clear that they are not about the weather talking

— What, in your opinion, was the last straw for Poroshenko in the decision on citizenship?
— In fact, they said that kind of song, but it's all nonsense. I think the last straw for him was that I was to bring people together in "the headquarters of the joint action" — and he was really scared. And second — he was in Georgia, and reportedly met for more than two hours with Ivanishvili. Why he went to Batumi under false pretenses, supposedly there was a business forum, and in fact, a business forum was held in Tbilisi? It's simple: Ivanishvili was sick and could not come to Tbilisi. He came to him. I don't know what they were talking about at the meeting, but knowing the obsession of oligarch Ivanishvili me and knowing the reaction of Poroshenko on me, clearly, not about the weather they said.
The money he received from Ivanishvili, or they were going to do something, I know that the original plan to hand me over to Georgia with the Georgians failed. Georgians do not want to see me in Georgia, not that someone gave me. The Georgians opened a business that I'm in Georgia did not come. For three years these cases are in court at the moment. So I don't need neither in prison, nor just. I don't know what the financial background of this agreement — Poroshenko without money does nothing. But what we see on the surface — that the Prosecutor's office of Georgia, allegedly sent new materials which supposedly opened the eyes of the Ukrainian Prosecutor's office.
— The reason for the cancellation of citizenship was the fact that the personal data you did not specify the facts that are against you prosecuted. Why did this happen?
— To talk about the legal reasons too ridiculous. Why? To respond to legal reasons, you need a legal process — it did not exist. How did it all happen? First, in secret, for two days changed the Commission… and would need to inform me, to allow my lawyers to read the case. It was necessary to make the process transparent, as is done in any legal field. Instead, furtively when I was out of the country, I was deprived of citizenship. So let's not talk about legal grounds.
As for personal data — this is nonsense! By the time when I filled out the questionnaire, no formal charges I don't handed. Something was reported on TV, but nobody in eyes did not see. At least I didn't see those. I'm not a refugee — I travel around the world, speak at forums, meeting with current heads of state and governments, all publicly and openly. I didn't have on hand any documents that I conducted some investigation. And moreover, no one in the world even about it seriously stuttered. So I could not indicate in the questionnaire that reported by some media.
But Poroshenko, while presenting your passport, could not know what action was taken?
— Everyone knew it, and it Chale all. Say it again, it was a time when I went, met with leaders of European, African, and Vice President of the United States, about the same time I had a conversation with President Obama in Warsaw…
Poroshenko sent me on a beach in Thailand

— What you originally had agreement with President Poroshenko when he gave you the Ukrainian passport?
It would help to clear Odessa of those mafia clans who controlled everything there. Poroshenko knows all the details. The first information about how the situation in Odessa, where and who controls what I got from it. He when I called Trukhanov thug Kivalov — the person who should be locked up. He promised me full support to save Odessa from all these people. Everything happened exactly the opposite. Lortkipanidze was appointed chief of police, in the end, he took almost all the functions except the special forces and whatnot. Appointed Sakvarelidze — began to sabotage the General Prosecutor's office, and then it was removed. Appointed Marushevska, but did not take chief that he promised — the rules on customs open space. This law has personally blocked his son, and Lutsenko, they sabotaged the adoption of this law.
I also know that at the end of 2016 came Gryzlov of the Minsk contact group. And Gryzlov gave him an ultimatum to Putin — I should be removed from Ukrainian politics and the governorship. Putin is very worried that I'm in Odessa. In the summer of 2016, he sent a group of the FSB, which removed all of the apartments around my residence to find dirt on me. But then they were withdrawn because the Russians received assurances that I will be removed from the post of Governor. After that, Poroshenko is calling me and says: "You must be tired from Odessa, let's send an Ambassador to Holland". What I smiled at him right in the face. He then said, "If you don't want to Holland, then to South-East Asia." So he sent me on a beach in Thailand!
Yeah, told us sources in the AP. The Netherlands was selected because it is home to your family, right?
— Yes, my family would be happy to be reunited with me in the Netherlands! And he strongly described the prospects as well to be an Ambassador. To which I replied that I know what the ambassadors that come to visit this here MP Goncharenko, who he called a bastard — and I need that bastard to meet, to accompany you at the airport and wait for him near some questionable neighborhoods while he's there having fun.
My biggest mistake was that I misunderstood the motivation Poroshenko

— With commitment, Clinton understood. And with your hand, what were the obligations to the President? For example, to support it?
— I have no commitments were, except that we should have a result. But I regret that I went to Chernigov to campaign for Berezenko in the election. It was my mistake, although I was there more going campaign against the Korban, because the company Kolomoisky on me then actively attacked. For me it was protection. On the other hand, when they invited me to lead the list of the PPB, I flatly refused. Poroshenko together with Kovalchuk for two hours I tried to talk, but I refused.
Why?
I told him that until he removes from the party Golubov, Goncharenko, I will not enter. I told him that I can't be in the same company with the villains.

— In addition to supporting Berezenko, what mistakes you made?
My biggest mistake was that I initially misread the motivation Poroshenko. She had very simple really — to make money. This man remained a banal trader. I worked at AP and know that most of the time Poroshenko decides in the workplace your business questions.
— With whom and how? You have the facts?
His investment banker Makar Pasenyuk and its business partners, such as Igor Kononenko, Oleg Gladkovsky and Alexander Granovsky in the Administration are almost around the clock. And all this happens in time of war. I have at some point had the impression that these people are just living. All the rest is just a formality.
— What about your role in the destruction Yatsenyuk, when AP was just using you as a battering RAM? Then Poroshenko promised you in return?
I was completely against Yatsenyuk. I deliberately did everything to remove Yatsenyuk and played a decisive role in this. But my mistake was that we did not bring this matter to an end before the early parliamentary elections. And the result was oligarchic fixed. Was the result the ugliest government in the history of Ukraine. Poroshenko just went on a monstrous deal with Avakov. It was a transaction, not just at the government level and on the level of control over the fields, over the state's assets over the threads on customs, VAT return.
They simply divided the country between them, and grouping Yatsenyuk received compensation for what has now become Prime Minister Groysman, who, incidentally, constantly consults with Yatsenyuk. Actually Yatsenyuk now managed by the government. But the government, I also can't name it, because they are completely incompetent. Even the government of Shevardnadze at the time was much more efficient.
Let's go back to your statement of topic threads. Such decisions are made at the level of strategic "nine"?
— No, almost all decisions are made by Poroshenko, together with his business partners, they generally do not tolerate other people's opinions and consider themselves masters of the country.
— But you say about the role Avakov? What is she making these decisions?
They with Poroshenko just temporary allies that hate each other. Poroshenko thinks it is all in the end will cheat, but it was badly on this score is mistaken. I'd say that's his main delusion is that he can get away with it.
Akhmetov is now the main motivator Poroshenko

— In your opinion, whose role in the process of revoking your citizenship was the most important thing — Poroshenko and Avakov?
— I think that the main role was Poroshenko. Poroshenko afraid because he was most aware of my potential, my possibilities. He really knows what I can arrange. Whatever he said I failed and so forth, he knows I'll find a way to organize. This time. Second. Now Akhmetov is the main motivator Poroshenko. They hate each other, but they really need each other. It is a family connection, given the program his wife…
Of course, solutions are always individually makes Poroshenko, Akhmetov was the main motivator. It's just that he has included in this Commission (Commission on citizenship under the President — approx. ed.) representative Avakov, to share the responsibility. Because it is well understood that this decision is fraught. He specifically insisted that the representatives of Avakov is also signed. It is the old Soviet tactic of "triplets" of the Politburo — when all sign some decisions.
— You have already established how this decision was made and implemented? Who else was involved?
He went to Georgia to establish a formal occasion. I'm sure they spoke with Ivanishvili about commercial things too, because, well, not Poroshenko to sit with another billionaire not to talk about business. It's not his nature. But it is not important. The main was a political motivation — it is corny afraid of me. Otherwise, if he was not afraid of me, then I would be in Kiev and would remove citizenship throughout the legal procedure, and not in secret. We were then able to begin hearings on the results I Georgia, discuss all criminal cases. But that takes minimal courage and a certain part of the body what it does not. Due to the lack of all this first, he apparently planned to do this before the trip to Georgia when I was in Africa. And, thank God that did not — because in Africa I would feel not so comfortable, I would be more confused.
Then he got that information I went to relatives in America for a few days, and two days before my return they pulled it off. Everything was written in hindsight. Summons to the Prosecutor's office, which they refer to, not in nature. Even if they are, then they have the Ukrainian Prosecutor's office, as you correctly wrote, refused. They say that I have had some conviction, but it's easy for me to prove that no criminal record I have. Secondly, there is the moral side. Post-revolutionary Ukraine refers to a criminal case, made on the orders of Putin! Putin about it loudly said that he will do so in Georgia I was convicted. By order of Putin's the largest private shareholder of Gazprom starts on me, the works — and in these cases the post-revolutionary, post-Maidan Ukraine officially refers…
Where is the morality? On what principles you're talking? And give it for face value. This is the restoration of the old regime! Because even Yanukovych would have thought before to refer to such things. And these refer without a twinge of conscience, as it should be. The same Lutsenko, whom I once considered a decent person… Its that have changed? He went to Georgia, arranged turmoil in the courts and now this became a reason for me to draw. Last summer, Lutsenko and Poroshenko met me in the office twice. When my administration was doing the searches, they said if I didn't stop their activity, then they will hold things against me and my environment to autumn. But we understand, Lutsenko said that "it's policy".

Poroshenko actually took all the weapons from the previous government

— Your environment — who is this?
— When filed cases on Marushevska, Seeds Krivonos and former Consul of Timur. They said, "We are all politicians — this to me says Lutsenko, the Prosecutor General, in the presence of Poroshenko. We, of course, these cases keep, but we'll see how it goes. And there it is possible to give the course". It was a warning. He also sent me a "black mark" that he will do. I persistently did not notice, I pay more attention to Akhmetov, specific things. For example, I told the story of how he traded buses with the occupied Abkhazia, as Minister of economy of Ukraine, his company. It is a violation of international law, is a criminal case in Ukraine.
— It could be one of the reasons why it offended you?
— I think that's a much more serious reason than the song.
Is it true that after the release of this song on the air, came the warning to the channel?
Yes. But I think even more he resented the story about Abkhazia. This story is documentary proof of a criminal offense committed to them personally. Because he was economy Minister, he used his official position in order to allow your company to trade with the territory, which was then under international sanctions.
— You are now in the States, and declare that you want to return to Ukraine. But you must understand that, most likely, you will not be allowed. What is your plan of action for the near future?
— I understand that Poroshenko wants to stop me. But we need to make sure that Poroshenko is not solved. Last time I was in Ukraine was not allowed Yanukovych. When I arrived, I was in the "black list". When the Maidan began, I flew to Warsaw from new York, there gathered a group of members of Parliament — and this group arrived. The guards were ordered not to let me in to Ukraine. But it was the Maidan. I was surrounded by deputies and almost without a stamp in the passport by the power held in Ukraine. I went to the Maidan. For me at the hotel was attended by representatives of Yanukovych and said that I was forcibly deported, if I didn't go myself. Two days later I left. As soon as Yanukovych left Ukraine, the other day I came back to Ukraine. So one attempt to ban me from entering Ukraine have already been made. And this man is now in Rostov. Poroshenko — the man that I closed the TV. It was very cynical, because at the time when the "5 channel" were not allowed to go out in the regions, I, as President of Georgia, put…
— What do you mean? You brought in the "black list" that the President's Administration sends to the TV? You say about this?
— Yes, I was in the "black list" on all channels. Ironically I helped him to his channel showing in Georgia. Poroshenko — the man I came to help on the second Maidan, which I was not allowed Yanukovych. And now the same man forbids me esters and the same person will not allow me to Ukraine. Where cynical? He really can not know what to do. There are people who know not what they do. This is knows. This knew, who helped in Odessa against me, knew that such censorship when it was used against him, he knew what not to let political opponents. It really took all the weapons from the previous government.
I know all the ins and outs of the Ukraine

— Say you arrived, and you are not allowed to enter Ukraine. Where do you go next?
— I am now engaged in the creation of Headquarters joint action. We are preparing to autumn in all regions, to mobilize people and demand from power fundamental changes. I spend all day calling everybody, organize the work of the joint staffs deal with information details of the campaign, the coordination of political leaders. I think in the fall it will give the result. Yes, of course, calmer and more effective when I did. But on the other hand, there are modern means of communication. Yet Ukraine is not a closed country. We're going to do it. We are going according to plan. If you need my presence, I will attend. Not a problem. Again I say, in the days of Yanukovych I came in spite of his prohibitions. I arrived and moved in.
— But now you do not have a passport, you can collect it.
Who will take away my passport? First, the passport I have with me, and secondly… There are many different possibilities, I'm not going to disclose everything. There are a lot of friends around the world.
— In Lithuania, discuss the issue of granting you citizenship.
— I very much like the Lithuanians, and to me they are very good. My wife is Dutch, I automatically have a right to Dutch citizenship — we have so many years married. My children with Georgian passports also have a Dutch passport. This problem I have. But I deliberately have not done and will not do. Because there is a specific goal. I pledged to the people of Ukraine. Poroshenko hopes that I'll calm down and switch to other topics. He said to me, they say, nowhere to go, so I hang out in the Ukraine. No, I have a place to go just for the Ukraine! I said that I would bring to the end the struggle in Ukraine. I feel Ukrainian. Given my army years, College years and living in Kiev, somewhere in the 12 years I lived in Ukraine. I participated in three revolutions. As a student I went to the rallies of the Revolution on the granite, I was on two streets. I organized the first independence…
But if you won't admit where you live? Go back to the States? Or in the Netherlands?
— No, I will live in the transit area of Borispol airport. There is a good repair, my friend it's the Director. I hope that he will find me there hiding place. It was a joke, but I'll find opportunities. There is no such control as they think. I have many in the Ukrainian service. I am a former Ukrainian border guard. May he not forget about it. I know all the inputs and outputs in Ukraine.
Sounds ominous, to be honest…
— So he hopes not. Secondly, I have a lot of friends of the guards.
— Where will you appeal the decision?
— …Third, I have a lot of friends in the national guard, the police. Let him not forget that the tentacles of our team has already penetrated everywhere, and security forces hate him. He's at a meeting with me in Malta, it is recognised that hate him that he can't count on the National guard or the special security service or the police. So are some groups.
— What units?
Kononenko has created a security detachment.
— …Interesting…
— I all this took place, it is nothing new to invent. He does everything what Yanukovych did. He just thought he was smarter and smarter Yanukovych — but I think he's a cowardly Yanukovych. He repeated many times in Malta that he will avoid the fate of Yanukovych — but I think he repeats this for yourself. Just to convince myself.
Poroshenko saw the outlines of the opposition and for him this is a very alarming signal

— Why were talking about what he's going to need to run somewhere?
He said he will not allow to destabilize the situation, so we did not expect that it will run like Yanukovych. The problem is that he has nowhere to run. Russia still does not accept. And after the story with Firtash… After Akhmetov… View, Akhmetov did not give a us visa. Gladkowska cancelled American visa. Kononenko does not give us the visa. Where to run? He's already persona non grata in the West. In private conversations representatives of the Western services tell, including me, about undeclared assets Poroshenko, on his money. Do you think that when he is President, it's not coming out? Of course I will. He crossed the line. I think in this situation it does not need to be afraid of. We have to go according to plan, we should act as well.
It is completely hostage Akhmetov, those people whom they held in the SBU. He's a hostage Yatsenyuk and his group. So this man not to be envied. He missed their historic chance to be great — not only Ukrainian leader who would have created the Ukrainian statehood, but also one of the great European leaders. Now, apparently, the Ukrainian government will have to create a new generation of politicians. A role I see as the role of the facilitator to new people. I have no personal ambitions. But I have responsibilities. Poroshenko now we see the outlines of the opposition. Believe me, for it is a very alarming signal. He thought that if he brought us all apart, then we can find solidarity. But completely different people found an opportunity to consolidate. From Yuliya Tymoshenko and ending with "Demalyansa", Gritsenko, Garden, Nayem, Leshchenko and zalishchuk. For the oligarchs, Akhmetov is a disaster.
— You say you wish to appeal the decision in court. In what court?
— We will go to the administrative court. If the administrative court does not, then let's go to Strasbourg.
— You mean the European court of human rights?
Yes.
— You can now predict what the outcome of this whole story?
— I think that this story is connected not only with me. He now began the inevitable process of the collapse of their power. But then this process will accelerate. He will more and more turn away from people and the international community. At some point people just say "enough". In Ukraine there was a revolution, but no revolutionary changes. The revolution must be complete change and a real replacement of the political class. And it will happen in the coming months. The new political class is ready. It is necessary to open eyes — they are all around us. The new political leadership is ready. When you have a huge number of new, young, brilliant, honest Ukrainians with a good education, and you can't get to leadership positions any better than henchmen Kononenko, Granovsky, with all due respect, the former Director of market — what does this mean? This suggests that it is all over quickly. Because there is already a replacement. They breathe them in the head. It is not Saakashvili breathes them in the back — people breathe. These all do not send.
Comments
comments