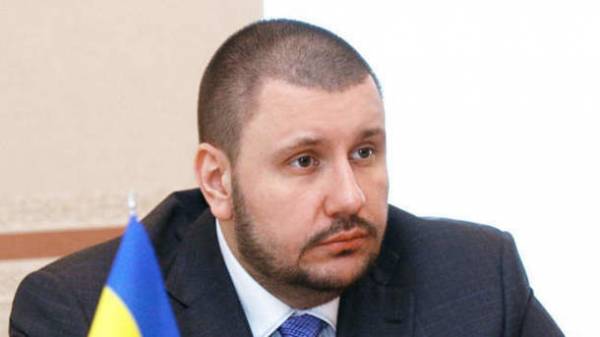 The Prosecutor General's office declared suspicion 46 persons in criminal proceedings concerning a criminal organization of ex-Minister of income and fees Alexander Klimenko. This was written in Facebook, the Prosecutor General Yuri Lutsenko.
According to him, during investigation of a criminal organization Klimenko military prosecutors of the PGO participated in the consideration of 258 petitions in the courts on measures ensuring criminal proceedings, 163 of them concerned the seizure of property of suspects. He noted that all the requests are satisfied.
SEE ALSO
Ex-tax times Klimenko ready to deal with the investigation.
"At the interim results and the suspicion is declared by the 46 individuals, including the heads of regional tax, and the ex-Minister of incomes and fees Klymenko. Remains in custody 9 people, 18 people are under Deposit for a total amount of UAH 59 mn. Property of the suspects arrested in the amount of 900 million UAH. The amount of seized property Klimenko and its affiliated companies reaches 6 billion UAH", – wrote Lutsenko.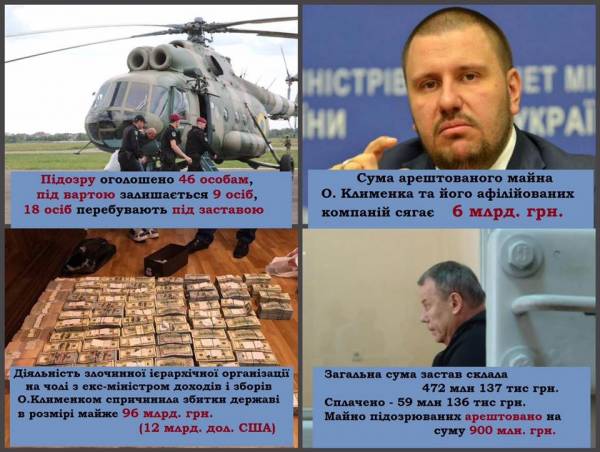 SEE ALSO
Matios: In "Gulliver" found the secret office of the Bank Klimenko
It is reported that among the arrested property-related Klimenko structures: two houses and three plots of land in Kozyn with a total value of nearly 140 million UAH.; apartment in the city center cost more than 20 million; commercial premises in the shopping center "Gulliver" worth 245 million; the Department store in Donetsk cost more than 229 million.
As reported, on June 14, Alexander Klimenko reported about suspicion by the military Prosecutor.
Recall, Klimenko suspected that from April 2012 to September 2013, occupying the post of Minister of incomes and fees, "consisting of established and led by Yanukovych V. F. criminal organization, abusing official position, acting from mercenary motives, by implementing developed the criminal plan and the criminal scheme took possession of the means of the state budget of Ukraine for the total amount 3,166 billion by illegal compensation of VAT to the accounts of fictitious enterprises, especially large size, which were distributed between members of criminal organizations."
Klimenko, head of the State tax service of Ukraine in the period from November 2011 to December 2012, the Ministry of income and charges of Ukraine from December 2012 until the end of February 2014. After the revolution of Dignity, he fled from Ukraine.
Comments
comments