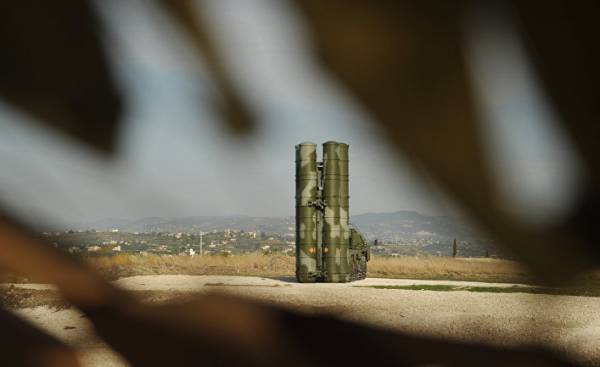 The purchase of Russian missile systems s-400, which are the United States, and their trade in Turkey involves phenomenal opportunities for the development of Turkish defence industry…
In a period when Turkey has been fighting with these murderous terrorist organizations such as the organization FETÖ of Fethullah Gulen (Fethullah Gülen), the Kurdistan workers ' party (PKK) / Party Democratic Union (PYD), ISIS (banned in Russia — approx. ed.), Revolutionary people's liberation party-front (DHKP-C), the West is opposed to the air defense system of great importance from the point of view of security of Turkey, was imported to our country, and in the long term could be the Turkish national companies. The U.S. is "concerned" by Turkey purchase of air defense systems s-400 from Russia, and NATO claims that the s-400 Russian production will not be integrated into the system Alliance. According to military experts, due to the acquisition of systems s-400 long-range and their production in Turkey national defence industry like ASELSAN, TAI, HAVELSAN, ROKETSAN will receive new possibilities in the exploitation of advanced missile systems, while the West do not care about the security of Turkey, and keeping her dependent on him in the field of air defense systems.

We will buy any weapon they want and where they want
Deputy Chairman of the Board of Directors of the Center for strategic research "Defenders of justice" (ASSAM), retired Colonel Mustafa Hacimustafaoglu (Mustafa Hacımustafaoğulları) in conversation with Akit noted that the admission of air defense systems to the armed forces of Turkey will be a very important event. "The growing and developing Turkey is growing and the scale of the activity. It is extremely important and the inclusion of missile systems s-400 into our arms, and the production of these systems on their own in our country. So far, we as a country — member of NATO had received arms from other countries of the Alliance. But we have seen that in the period when our country was threatened by serious risks, and we experienced difficult times, the Western countries instead of supporting us, preferred in the eyes of the world to shoot us in the back, in spite of our NATO membership. Turkey is an independent country, and she accepts their decisions. Independence is associated with the power. They are concerned about further growth of Turkey. But no matter how they were concerned about, we will continue to grow. Turkey will buy any weapon he wants and where he wants. The US and NATO will see it. S-400 is in a sense will put an end to the encroachments of the West," — said the expert.
Our defense industry will gain phenomenal opportunities
Hacimustafaoglu continued: "Buying these defensive systems, our country relies on technology transfer, and in the future we want to produce these systems. But Western countries did not agree with this. Meanwhile, Russia has largely accepted our terms and conditions. Thanks to the production of air defense systems in Turkey our national companies of the defense industry such as ASELSAN, TAI, HAVELSAN, ROKETSAN will receive new possibilities in the exploitation of advanced missile systems. In this case, the Turkish defence industry will be on an unprecedented level."

USA sabotage the agreement
The representative of ASSAM in Ankara, a retired major, Akdogan şahin (Şahin Akdoğan) noticed that Turkey, even late in addressing the issue of air defense systems, and this task, in spite of the West, as soon as possible to complete. "As a result of the independent policy pursued by Turkey, we can build political, military and economic relations with the US and with Russia, Qatar, Iran, Saudi Arabia. The talks, which were held earlier in missile systems to China, was sabotaged by the USA. We now have on the agenda C-400, and the United States again sabotaged reached an agreement with Russia. If the US and the West do not contribute to the steps that country has taken from all sides in a ring of terrorism, and fighting with these murderous organizations, as FETÖ, PKK, ISIS, DHKP-C has taken for the safety of their citizens, then they ought to shut up," he said Akdogan.
The expert added: "Turkey is an independent country, and by the grace of Allah she will continue to insist on the independent policy. Therefore, in the long term, our country will create its own defense system. It is a necessity. We have for many years bought weapons from countries such as USA, Germany, Israel. While we are not nationalizing our defense industry, we will continue to depend on it. Turkey needs to create its defense system on earth and in the air, its system of electronic communications, satellite system. Turkey from the point of view of its intellectual potential quite able to do it."
That s-400 will give Turkey?
S-400 Russian production is a more modern version of the defensive missile systems s-300. Increased range and altitude of operation, improved radar. Vertical launch of missiles distinguishes these systems from their counterparts and provides the ability to hit targets in all directions 360 degrees. This allows the launch of missiles towards targets, approaching from the East or West, without turning launchers. S-400 is able to simultaneously identify up to 100 targets different classes and characteristics are far superior to their NATO equivalent of the Patriot. Radar of s-400, which can realize multiciliate tracking, is able to effectively detect the stealth aircraft. The system has a detection range of up to 500-600 kilometers. It is reported that Turkey will buy four Russian missile system s-400 for $ 2.5 billion.
Comments
comments