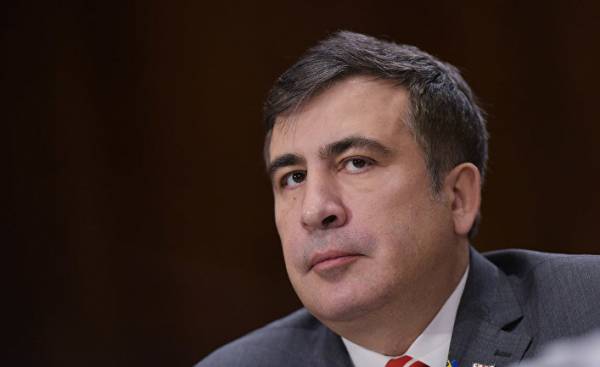 Politician Mikhail Saakashvili believes that the US President has the grounds to speak about the attempts of the Ukrainian government in 2016-m to year to reduce the chances of trump's victory in the presidential elections. He stated this in an interview with the American channel CNN.
"President trump, for example, said something about Ukraine. In Ukraine, we appreciate the support of the people of Ukraine from the United States. We are at war with the Russians. The world needs to give the Ukrainians credit for their heroic resistance, but on the other hand, the President trump was right. Have the dirty game started by some Ukrainian oligarchic circles", — Saakashvili said, commenting on the recent statement of the President of the United States, but was interrupted the next question.
Saakashvili also said that his current problems in Ukraine due to his opposition to the oligarchs and corruption. "I was denied citizenship for the same reasons I got the problem with Putin: I spoke against his oligarchic, corrupt regime," — said the ex-President of Georgia.
Saakashvili stressed that he is a patriot of Ukraine and the citizenship of Ukraine adopted by Poroshenko, because I thought of "devoted to reform." "The problem is that the leaders of Ukraine chose a path similar to the total in the region — the oligarchs, the corruption, the seizure of resources, the suppression of democracy. And so I became one of its leading opponents. Denying me, it is absolutely against the law of my nationality, in violation of the Constitution of Ukraine and international laws, it is essentially trying to get rid of one of the leading opponents," he said.
"But I am inspired a violent reaction in the Ukraine, the support of civil society and other opposition groups, my own party, which is rapidly growing in Ukraine", — told ex-the Governor of Odessa region.
As you know, Wednesday, July 26, the people's deputies of the Radical party said that the ex-President of Georgia and former head of the Odessa regional state administration has revoked the citizenship of Ukraine. The state migration service of Ukraine confirmed Saakashvili deprivation of citizenship, confirmation from the presidential Administration appeared only on Thursday, July 27. Saakashvili himself on the eve flew to the United States. He said he would seek return to Ukraine.
Georgian citizenship was stripped of his December 4, 2015. Last week Poroshenko visited Georgia. There he first said that Ukraine has not received the request for the extradition of Saakashvili in Georgia, but then said that he had received.
After the resignation as head of the Odessa regional state administration, Saakashvili began to develop in Ukraine, his party, on 21 July this year, the Ministry of justice registered its new name — the "movement novih forces mikhayla Saakashvil" ("the Movement of new forces Mikheil Saakashvili").
Comments
comments